Shifting focus from tablets to phones, Zync has launched not one, not two but 6 dual-SIM feature phones in India priced between Rs. 1,399 and Rs. 2,499. The devices are available through various retail outlets across the country as well as on popular online retail sites.
Zync C18, Zync C21, Zync C22, Zync C24, Zync C27 and the Zync C30 come with dual standby functionality and support English and Hindi languages as well as multiple image formats.
The phones have varying screen sizes and resolutions ranging from 1.8-inch with 128x160 pixels to 2.6-inch supporting 240x320 pixels.They come in black and Red colour variants.
The feature phones sport a bar form factor and come with a 4GB micro SD card, a 1.3-megapixel camera with video recording, FM radio, dual LED torch light, a music player and more. Connectivity wise, they support USB (no USB support for C18) and Bluetooth.
Additionally, the high-end Zync C30 comes with a mobile tracker, email support and King Movie Player.
The Zync C18 is the cheapest at Rs. 1,399 followed by the Zync C21, Zync C22, Zync C24, Zync C27, which are priced at Rs.1,990 and the Zync C30 seals the deal at Rs. 2,499.
Zync feature phones specifications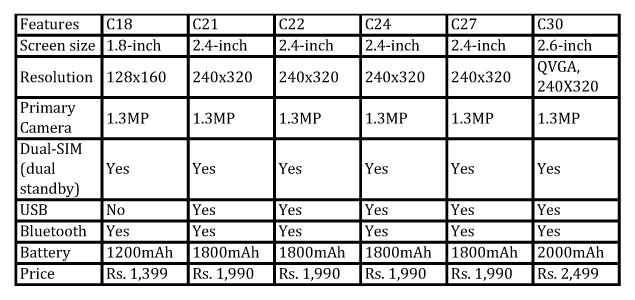 For the latest tech news and reviews, follow Gadgets 360 on Twitter, Facebook, and Google News. For the latest videos on gadgets and tech, subscribe to our YouTube channel.
Related Stories