Flipkart, Xiaomi's exclusive online retail partner, has announced that the Redmi Note phablet, priced at Rs. 8,999, will go on sale early in India on December 1 exclusively for the first 5,000 Flipkart First subscribers who register. Additionally, Xiaomi, after success with its app store in China, has announced an international app store for developers in Hong Kong, Taiwan, and Singapore to upload their apps for wider use.
The Xiaomi Redmi Note will be available 6pm IST on Monday, one day prior to its India availability, only for the first 5,000 Flipkart First subscribers. The handset will go on sale for general public on December 2 [Tuesday] at 2pm IST. The smartphone will be automatically added to the cart of the first 5,000 Flipkart First customers who register for the handset's flash sale on Tuesday.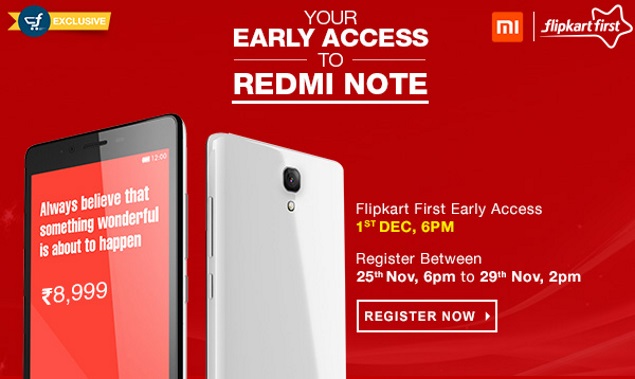 The e-commerce website, in an email to its Flipkart First subscribers titled 'Early Access to Redmi Note', said, " The first 5,000 Flipkart First subscribers who register to buy, will get the Redmi Note added to their cart automatically and they can purchase the Redmi Note on 1st Dec 6PM IST, one day prior to its India launch."
"All Flipkart First subscribers who get Early Access on the Redmi Note will get an email from Flipkart to confirm their Early Access by 30th November," the email from Flipkart added.
Interestingly, the company in September had also offered the Redmi 1S to select Flipkart First subscribers 1 day prior to the India launch of the handset.
The Xiaomi Redmi Note will be available only through flash sales starting December 2, just like the Xiaomi Mi 3 and Redmi 1S have been so far.
On Tuesday, the Redmi 1S went on sale in India via Flipkart for possibly the last time. The Chinese company on Monday launched the Xiaomi Redmi Note phablet alongside its 4G-LTE variant. The 3G Redmi Note would be sold through flash sales on Flipkart from December 2 onwards.
The Redmi Note 4G, unlike the Redmi Note, will be also available in Airtel stores in six cities. Customers will have to register separately to buy a Redmi Note 4G from Airtel stores. It will be available in the second half of December.
In other news, Xiaomi shared its app store statistics on its MIUI forum and claimed that its app store has been averaging 50 million downloads a day. It said, "Xiaomi App Store downloads hit 10 billion times till now, with 50 million downloads each day, 364 million RMB dividends for domestic app developers (from Jan. to Oct. 2014) and 3000+ apps and games for tablets."
Xiaomi also promised Mi fans that the app store will be soon available in more countries, saying, "We promise that we will make this site available for Mi fans from other countries soon. Please stay tuned."
Affiliate links may be automatically generated - see our ethics statement for details.