Xiaomi has confirmed that it will hold two flash sales for its budget Redmi 1S smartphone and LTE-enabled Redmi Note 4G again on Tuesday, January 13. This will be the second time that will see
Xiaomi holding flash sales for two of its smartphones
on the same day.
The last flash sale saw 50,000 units of the Xiaomi Redmi Note 4G going out of stock in just 5 seconds while the 20,000 Xiaomi Redmi 1S units went out of stock in 4 seconds.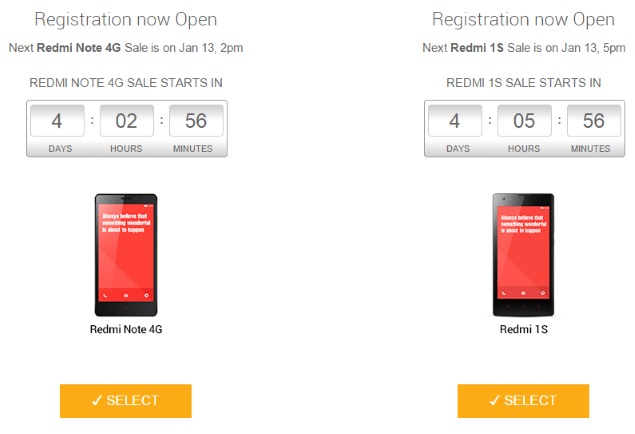 The Flipkart page for Mi handsets is now taking registrations for the second separate flash sales for the Redmi 1S and Redmi Note 4G. The first flash sale on Tuesday will be for the Redmi Note 4G and will kick off at 2pm IST, January 13. While the second flash sale on Tuesday for the Redmi 1S will start at 5pm IST on the same day. The page also notes that every user will have to register separately for buying the two smartphones.
As before, the Xiaomi Redmi 1S will be available via Flipkart at Rs. 5,999, while the Xiaomi Redmi Note 4G will be available at Rs. 9,999, and registrations for both the smartphones that make consumers eligible to participate in the sale will end at midnight on Monday. As of now, Xiaomi has not revealed how many units of the Redmi 1S and Redmi Note 4G will be going on sale on the day. Flipkart's Mi page notes it will limit orders to one phone per registered email ID per sale.
Last week, Xiaomi India Head Manu Kumar Jain claimed that the company crossed 500,000 registrations for the Xiaomi Redmi Note 4G and Redmi 1S combined.
The Chinese handset brand last week just ahead of Redmi 1S flash sale announced that the total number of handsets available this time for flash sale would be just 20,000, instead of the 40,000 revealed earlier.
The company explained the halving in a tweet and said, "This is due to an unforeseen logistics delay. We apologize for the inconvenience caused! Be assured - we will make it up in our future sales."
Affiliate links may be automatically generated - see our ethics statement for details.
For the latest tech news and reviews, follow Gadgets 360 on Twitter, Facebook, and Google News. For the latest videos on gadgets and tech, subscribe to our YouTube channel.
Related Stories