Xiaomi has seen impressive response from consumers in India and the company even hit the milestone of
selling 1 million smartphones
last year. The popular 'flash sale' model kicked off by Xiaomi and Flipkart has also received a great response; however there have been a few buyers left unhappy every time after a flash sale.
Now, the Chinese company is trying its hands onto different retail model that involves selling of "refurbished and unboxed" units in the country. A report on Friday suggested that Xiaomi is testing a limited pilot retail model for selling refurbished and unboxed smartphones.
Xiaomi India Head Manu Kumar Jain told BGR India, "At times we get devices that are perfectly fine and have no problem, but they are opened boxes. This is a pilot we are doing in India to see if such a model can work."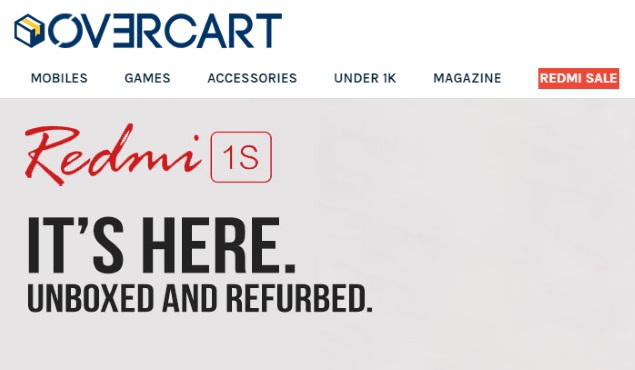 (Also see: Also see: Xiaomi Redmi Note 4G to Go on Sale Without Registration This Weekend)

Xiaomi handsets being sold under the pilot are reportedly the ones returned by buyers to Flipkart, the exclusive online retail partner of the brand in India.
The report adds that the company has currently tied up few partners both in online and offline retail to sell units of the Redmi 1S in limited numbers.
(Also see: Old is Gold - Refurbished Electronics Growing in Popularity)

Overcart, a marketplace that sells unboxed, refurbished, and pre-owned products, is currently selling the Xiaomi Redmi 1S in two categories - unboxed at Rs. 4,999, which includes a seal-opened product, and another refurbished at Rs. 4,599, which has been restored to its original working condition by the manufacturer. For those unaware, the Redmi 1S is priced at Rs. 5,999 new, and is exclusive to Flipkart.
Jain is said to have stressed that this is a pilot retail model and the company will decide to "scale it up or not" depending on the feedback.
NDTV Gadgets has reached out to Xiaomi India for comments on the pilot retail model and will update the story once we receive comments from the company.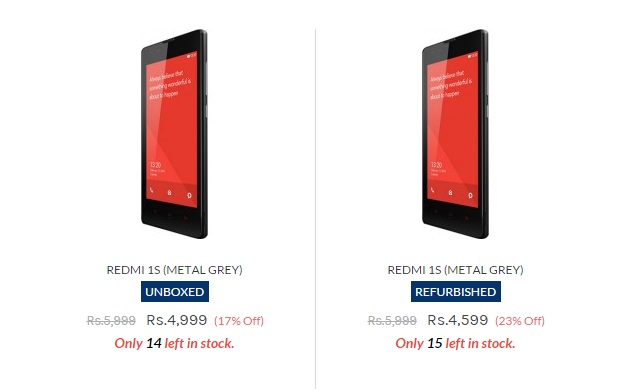 With offline sales of its Redmi Note 4G handset via Airtel, Xiaomi had earlier this year begun testing physical store sales in India in an effort to boost sales in the country. At that time, Jain had said, "If this works out fine, we'll expand the partnership to other cities and other devices," adding that it was too early to form any concrete plans yet.