Looks like Windows Phone is growing in terms of market share replacing BlackBerry and Symbian. According to analytics firm,
Kantar
(via
Engadget
), Windows Phone's market share in the UK has increased to 6.7 percent from 3 percent in the quarter ending February, over the same quarter last year. BlackBerry's market share fell 11.7 percent from 16.8 percent to 5.1 percent, while Symbian was the other loser witnessing a decline of 1.8 percent in marketshare in the UK. The same pattern can be observed in Germany, Italy, Australia, Mexico and US.
In Italy, Windows Phone registered a growth of more than 7 percent as its marketshare increased from 5.4 percent to 13.1 percent over the same period. Symbian was the biggest loser recording a 13.9 percent decrease in marketshare in Italy and a decrease of 19.7 percent in Mexico. BlackBerry also witnessed a major fall in its marketshare in Mexico slipping down 13 percent from 33.2 percent to 20.2 percent.
Interestingly, iOS is no longer the leading mobile OS platform in the US. Its marketshare declined from 47 percent to 43.5 percent, while Android has captured the pole position gaining 5.8 percentage points to register a market share of 51.2 percent. Android also leads in the UK with a share of 58.3 percent, gaining 10.3 percentage points over last year's figures. Google's mobile OS also leads in other markets including Urban China, Germany, Italy, Australia and Mexico.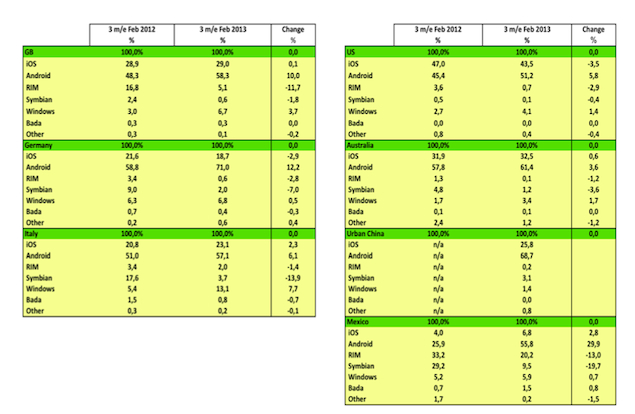 The figures indicate that Windows Phone has gained some momentum but BlackBerry's new OS platform, BlackBerry 10 made its debut only in February, so it will be interesting to see if that changes the equation.
Microsoft had earlier
announced
that Windows Phone had shipped more than the iPhone in seven market of the world in the last quarter. This was based on IDC's research and included Argentina, India, Poland, Russia, South Africa and Ukraine in addition to a group of smaller nations that include Croatia and rest of central and eastern Europe.
For the latest tech news and reviews, follow Gadgets 360 on Twitter, Facebook, and Google News. For the latest videos on gadgets and tech, subscribe to our YouTube channel.
Related Stories