A new report published by mobile advertising firm AdDuplex finds that Windows 10 Mobile now runs on 7 percent of active Windows Phones. The report covers Windows Phone trend in the US, Mexico, Brazil, Germany, and Italy.
The Microsoft Lumia 640 and 640 XL smartphones continue to be popular Windows Phones, as per the global trend. The report adds that Lumia 520 "continues to be the most popular device in use worldwide," though adds its popularity is steadily declining. The Lumia 520 has a market share of 14.6 percent in Windows Phone devices worldwide.
The firm states that the latest report is based on data collected from 5,277 Windows Phone apps running AdDuplex SDK v2 (and above). It adds that the raw data was analysed on November 23.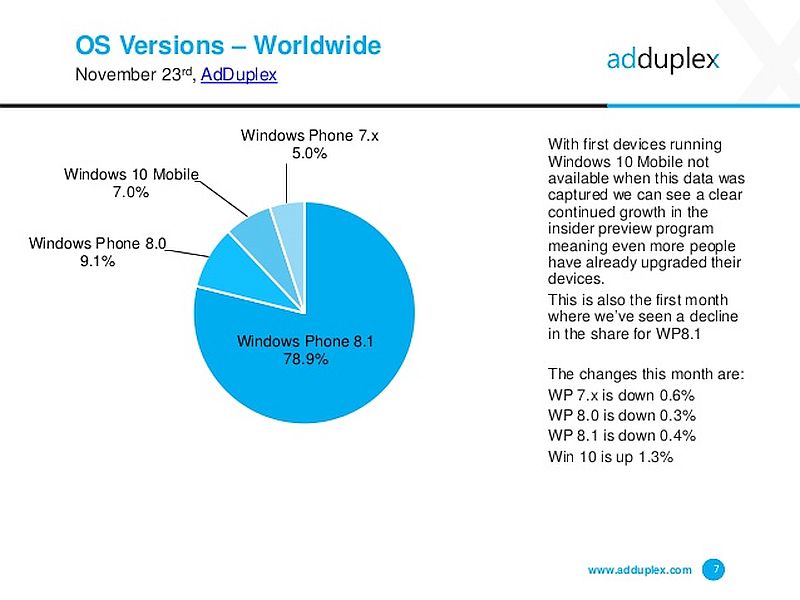 According to the Windows Phone OS distribution data, Windows 10 Mobile is running on 7 percent devices; Windows Phone 8 running on 9.1 percent, and Windows Phone 7 (7.x) running on 5 percent devices. The OS version Windows Phone 8.1 however tops the chart with 78.9 percent. The firm notes that this month Windows 10 Mobile saw a rise of 1.3 percent.
For the US market, the Lumia 635 is the most popular device with a market share of 32.5 percent. In Mexico, Brazil and Turkey, on the other hand, Lumia 520 tops the device chart with 25.1, 17.1, and 18.4 percent market share respectively. In Germany, Lumia 630 is the widely used device with a share of 14.1 percent. The Lumia 630 is the most popular Windows Phone device in Italy and has a market share of 15.7 percent.
The report also gives details about OEMs of Windows Phone devices and with a combined share of 97.02 percent, both Microsoft (previously Nokia as well) topped with 97.02 percent, followed by HTC with a share of 1.23 percent.
Microsoft announced in October that the Windows 10 Mobile rollout to all Windows Phone 8.1 handsets with 8GB of inbuilt storage will begin in a phased manner starting from December.
Notably, the first Windows 10 Mobile smartphones were launched earlier this month - the Microsoft Lumia 950 and Microsoft Lumia 950 XL. This week, the world's thinnest yet Windows smartphone was launched in Japan, the Yamada Denki Every Phone, also running Windows 10 Mobile.