US-based fitness startup Azoi just announced the launch of its new smart devices in a global launch that took place simultaneously in India and the United States. Azoi was founded more than two years ago in San Francisco by Hamish Patel.
The product is going to be sold in India, the US, Canada, China, Singapore, the UK and Europe and pre-orders have started. The research and development was carried out internally by Azoi from Ahmedabad.

Azoi's Wello is a cover for the Apple iPhone 5 or iPhone 5s (there is also a version for the iPhone 4s) that allows you to measure various vital body functions. Since it is paired with your phone, it is always with you and can be used discreetly unlike most other health-related products. Ami Karnik, co-founder and head of strategy at Azoi says, "People tend to want to be discreet about their health. When you're checking your temperature, or even having pills, you don't like to be public about it."
The Wello measures heart rate, respiration rate, blood pressure, blood oxygenation, temperature, lung function and also gives an ECG reading. To use, you launch the accompanying app, then put your index fingers on two sensors on the side, and the two middle fingers on the sensors on the back. The readings are done in 30 seconds, and your information is presented in a simple format. The Wello is available for pre-order now for Rs. 12,350 and would be delivered in August 2014, Karnik says.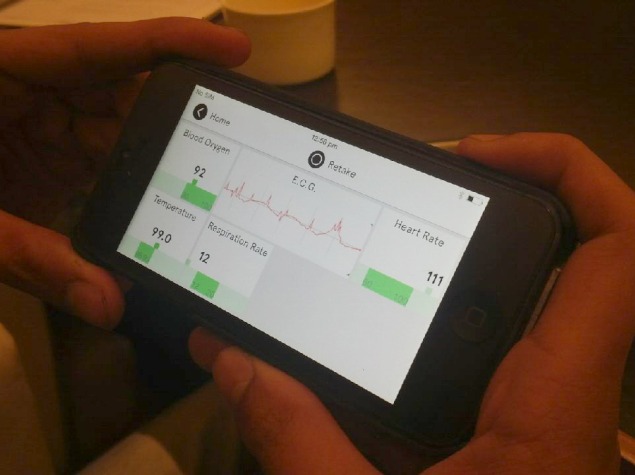 The last two years have seen a surge of fitness wearables such as the Fitbit family of devices, the Nike Fuelband, and the more uniquely designed Misfit Shine. What these devices have in common - from anecdotal reports - is that most are worn enthusiastically for a month and then quietly forgotten.
There are multiple reasons for this - designs which aren't practical for wearing all the time; user interfaces which aren't always intuitive or convenient; and the fact that simply logging lot of data and letting you figure it out isn't always the best way to motivate a person.
Meanwhile, in India, the picture is a little different. Most fitness wearables aren't available at retail outlets here; access to technology beyond pedometers is still limited. Since these devices often have to be imported, the price becomes prohibitively high, unless you purchase one while travelling. There are some early adopters who have been quite enthusiastically evangelising these devices, but even then, the larger issue of motivating people to keep using these devices over time is difficult.
Instead of competing directly with these devices, the Wello will also be able to import data from a Fitbit, and show you a holistic picture of your physical health.
While the Wello is being sold as an iPhone case, there is also going to be an Android app; Karnik says that Azoi could not have built the cases in enough form factors for Android, and hence the focus on the iPhone. However, as long as the phone is in Bluetooth range from the case, it will remain usable, and the company will include inserts to fit into the case, to make holding it without a phone comfortable. The Wello comes with its own battery and needs to be charged separately, but Karnik says that if you use it once a day, it should last for around a month between charges.
Right now, Azoi is pending certification from the US FDA, which would certainly go a long way in settling questions regarding the device's feasibility. However, from a lifestyle perspective, it is already an interesting device, and Karnik is clear that it is not going to be sold or marketed as a clinical tool. As an early warning system, and as a tool to change the way people think about health, Azoi is a very interesting product, but there are still kinks to iron out in design, and the prototype app still doesn't store a patient's historical data. Unless Azoi resolves these issues, it's not going to be a very useful tool.