Videocon has extended its portfolio with the addition of four new feature phones. These are the V1531+, V1542, V1548, and the V1580. Of these, the V1542 supports dual-SIM dual standby at least on paper. The V1548 and V1580 are touchscreen phones, likely to be resistive and the remaining two sport a bar form factor with a T9 keypad.
Moving on to the specifications, the V1531+ is the cheapest among the four priced at Rs. 1,850. The device sports a 2.4-inch screen with a 240x320 pixel resolution. It has a 3MP camera and supports video recording.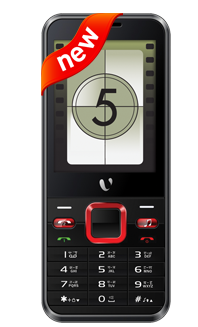 The phone comes with a 1500 mAh battery claiming up to 10 hours of talktime and also has FM Radio with FM recording. External memory is expandable up to 8GB. Connectivity options include GPRS and Bluetooth.The phone comes preloaded with social media apps like Facebook and Twitter and supports multiple audio and video formats. It also has unlimited auto call recording support.
Key features of V1531+
2.4-inch 240x320, 262K Color QVGA TFT color Display
1.3 MP Camera with video recording
1,500 mAh Battery
Pre-loaded Facebook & Twitter
A2DP Bluetooth 2.0
Bright Torch
Movie Juke Box application (SMV Format)
Expandable Memory upto 8GB
MP3, MP4/3GP/SMV
GPRS / Internet Browser
FM Radio with FM Recording
Unlimited auto call recording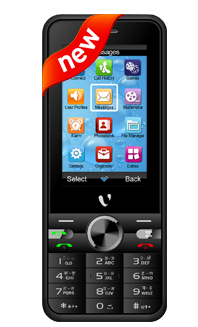 The V1542 priced at Rs. 2,099, features a 2.6-inch WQVGA display, a 1.3MP camera and an 1800 mAh battery. Memory expansion support is up to 16GB. It also has Wireless FM, a dual flashlight and a movie juke box application.
Apart from social apps like Facebook and Twitter, the phone also comes pre-installed news apps like TOI and ET. This is a dual-SIM, dual standby phone.
Key Features of V1542
Dual SIM, Dual Standby
2.6-inch WQVGA Bright Display
1.3MP Camera
1800mAh Battery
Expandable memory upto 16GB
Wireless FM
Preloaded Apps: Facebook, Twitter, TOI, ET, Weather
Movie Juke Box Application



The V1548 is a touch phone with a 2.6-inch QVGA display supporting a 240x320 pixel resolution. It has a 1.3MP camera, Bluetooth, 1200mAh battery and pre-installed social and news apps as well. Memory expansion is possible upto 8GB.
Other notable features include auto call recording and other utilities like e-book reader, mobile tracker and SMS/ call blacklist. The company is also bundling a 4GB microSD card that comes preloaded with 20 files each of Bollywood movies, song clips, music tracks and wallpapers.
The handset is priced at Rs. 2, 399.
Key features of the V1548
2.6-inch QVGA 240x320 pixel touch screen
1200 mAh Battery
Bluetooth
1.3 MP camera
Movie Juke Box Application
Unlimited Auto Call Recording
LED Torch
k class Amplifier
Telescopic FM Antenna for Wirefree FM experience
Powerful Social hub with Pre-Loaded Twitter, Facebook, TOI, Economic Times, Latest News & Weather
Expandable Memory upto 8 GB
Video Wallpaper Support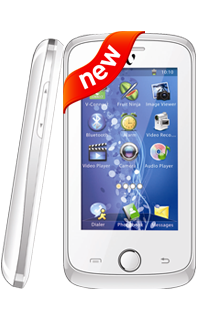 Lastly, the V1580 another touch phone has a 3.2-inch screen with WQVGA touch display. It has a 2MP camera, 1200mAh battery and comes pre-loaded with Opera Mini.
It also supports Java, which means other third party apps can be installed. The phone is priced at Rs. 2,999.
Key features of the V1580
3.2-inch WQVGA Touch Display
Preloaded Facebook, Twitter & Opera Mini
Movie Juke Box Application
Dynamic 2 MP camera
1200 mAh Battery
Edge.,JAVA
A2DP Bluetooth
Dual Flash Torch
Expandable Memory upto 16 GB