Vertu, the luxury handset maker, has launched the new Constellation smartphone for 4,900 Euros, which translates to roughly Rs. 4,16,000. The Vertu Constellation is the company's second Android-powered smartphone, and will be available from this month.
The Vertu Constellation features a 4.3-inch HD display with 342ppi pixel density which is protected by a 5.1-inch piece of sapphire crystal which the company claims can only be scratched by a diamond. The device's rear case comes wrapped with calf-leather which is available in five colours, Black, Cappuccino, Orange, Mocha, and Raspberry.
Under the hood of the Vertu Constellation are a 1.7GHz dual-core Qualcomm Snapdragon processor and Adreno 320 GPU. It runs Android 4.2 Jelly Bean, which is not the latest iteration, but fairly recent for a Vertu device. The Constellation also comes with exclusive ringtones especially performed for the brand by London Symphony Orchestra. Other features include 32GB inbuilt storage, 13-megapixel rear camera with full-HD video recording capability and 1.3-megapixel front-facing camera.
Connectivity features on the Vertu Constellation include Wi-Fi, Bluetooth, and NFC while it lacks LTE connectivity. There is an 1800mAh battery backing the device. The Vertu Constellation launch was first reported by Pocket-lint.
Earlier this year, Vertu launched the TI luxury phone in India for a whopping price of Rs. 6,49,990.
On the specifications side, it comes with a dual-core 1.7GHz processor along with 1GB of RAM and 64GB of inbuilt storage. For optics, there is an 8-megapixel rear camera that can also record 1080p videos and a 1.3-megapixel front-facing camera. Vertu TI features 3.7-inch WVGA screen and runs on Android 4.0 (Ice Cream Sandwich). The company has also added its own custom UI.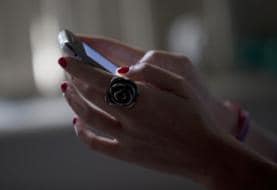 Mobiles launched in September 2013

Vertu Constellation key specifications
4.3-inch HD display with 342ppi pixel density
5.1-inch piece of sapphire crystal
1.7GHz dual-core Qualcomm Snapdragon processor and Adreno 320 GPU
32GB inbuilt storage
13-megapixel rear camera
1.3-megapixel front-facing camera
Android 4.2 (Jelly Bean)