Apple
unveiled
the new
iPhone 5s
and
iPhone 5c
at a special event held at its headquarters in Cupertino. While the iPhone 5c
did not live up to its promise
of being a 'low-cost iPhone', the
iPhone 5s showed off some promising innovations
, like the new Apple A7 chip and, perhaps the highlight of the event, a built-in fingerprint scanner called Touch ID.
Touch ID can be used to unlock the phone, by simply placing a finger on the Home button. It can also be used to confirm purchases made on the App Store, iBookstore or the iTunes Store.
You can scan and add multiple fingerprints (e.g. left and right thumbs, as well as index fingers), including those from multiple people (e.g. your wife or kids), and Touch ID will authenticate based on any of stored prints.
In case you are worried about privacy, Apple assures that fingerprints are encrypted and stored in a secure area inside the new A7 chip. Fingerprints are not accessible to any third-party apps, and nor are they sent to Apple's servers or backed onto iCloud.
So what's the technology behind Apple's latest innovation? The Touch ID capacitive sensor embedded in the Home button scans your finger at 500ppi resolution to get a high resolution image of your finger. The sensor embedded in the Home button is just 170 microns thin.
The new Home button is made out of sapphire crystal, one of the "clearest, hardest" materials out there. The Home button protects the fingerprint sensor and also acts as a lens to precisely beam your fingerprint to the scanner. The Home button is surrounded by a steel ring, that can detect touches and tell Touch ID to start scanning when a finger is placed.
The sensor uses advanced capacitive touch to take high-resolution image of the sub-epidermal layers of your skin. The resultant image is then analysed, and grouped into one of three fingerprint types: Arch, Loop or Whorl. It then analyses ridges and other details too small for the human eye to see, to come up with a match for one of the stored fingerprints.
Update: Apple has reiterated that it stores only encrypted 'fingerprint data' obtained from the process detailed above and not the actual fingerprint image downplaying concerns of the iPhone 5s storing biometric data.
Apple also told WSJ that "customers who wish the use Touch ID also have to create a passcode as a backup. Only that passcode (not a finger) can unlock the phone if the phone is rebooted or hasn't been unlocked for 48 hours. This feature is meant to block hackers from stalling for time as they try to find a way to circumvent the fingerprint scanner."

Here's a video that gives a closer look at Touch ID.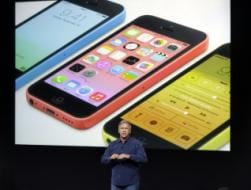 iPhone 5c and iPhone 5s launch in pictures