It all started with reports that some users were complaining about the iPhone 6 Plus, Apple's biggest smartphone till date, bending in their pockets while sitting. Then came a YouTube video that showed an iPhone 6 Plus bending out of shape when subjected to force.
While the YouTube channel behind the original bending video posted another video subjecting other smartphones to similar tests (with mixed results) and Apple shared details of the stress testing that it subjects iPhone models to, that didn't stop brands like Samsung, Asus, and others from mocking iPhone 6 Plus', shall we say, bending capabilities.
( Also see: Apple Defends iPhone 6 Plus on Bending Issue )
In this backdrop, Consumer Reports, an American magazine that has been around for almost 80 years and is widely regarded as one of the most authoritative, independent sources of product testing and reviews, decided to subject iPhone 6 and iPhone 6 Plus, and indeed other flagships like the LG G3, Samsung Galaxy Note 3, HTC One (M8) to stress testing of its own.
Consumer Reports subjected each of the smartphones to an increasing amount of force. "We started light, applying 10 pounds of force for 30 seconds, then releasing the force," the magazine explained in an article detailing its findings on its website. "Then we increased the force in 10-pound increments, noted when the phones first started to deform (that's what our engineers call it) and stopped the test for each phone when we saw the screen come loose from the case."
The testing found that the HTC One (M8) was the one to have its case separated with the least amount of force applied. The iPhone 6 Plus, the phone has been the centre of all the 'Bendgate' attention, is in fact sturdier of the two new iPhone models, the report added.
Interestingly enough, Apple's iPhone 5 performed as well as the Samsung Galaxy Note 3 in the case separation test.
The complete results of Consumer Reports' testing are detailed below:
| | | |
| --- | --- | --- |
| Smartphone | Deformation | Case separation |
| HTC One (M8) | 70 pounds | 90 pounds |
| Apple iPhone 6 | 70 pounds | 100 pounds |
| Apple iPhone 6 Plus | 90 pounds | 110 pounds |
| LG G3 | 130 pounds | 130 pounds |
| Apple iPhone 5 | 130 pounds | 150 pounds |
| Samsung Galaxy Note 3 | 150 pounds | 150 pounds |
The Consumer Reports findings seem to suggest that owners of no particular smartphone need to worry about their device bending during day to day usage. Once subjected to extraordinary amounts of force though, everything is, obviously, breakable.
The results of the carnage are pictured above and below, all images courtesy Consumer Reports.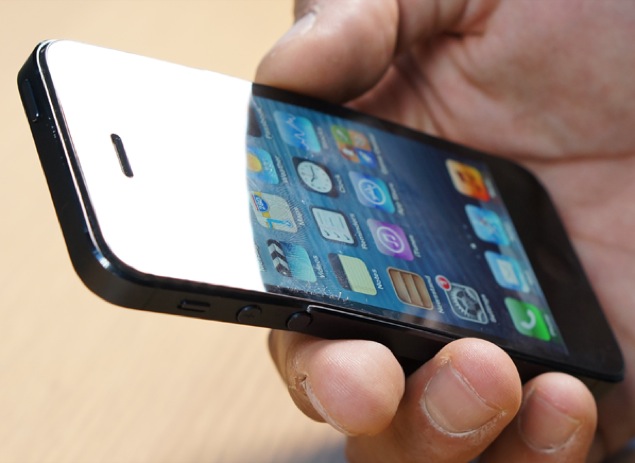 iPhone 5
HTC One (M8)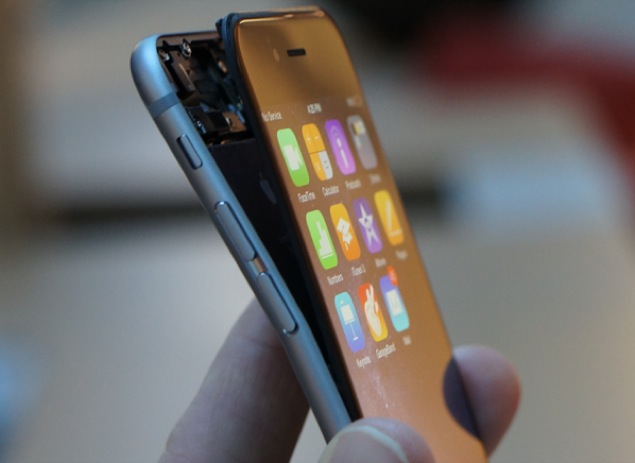 iPhone 6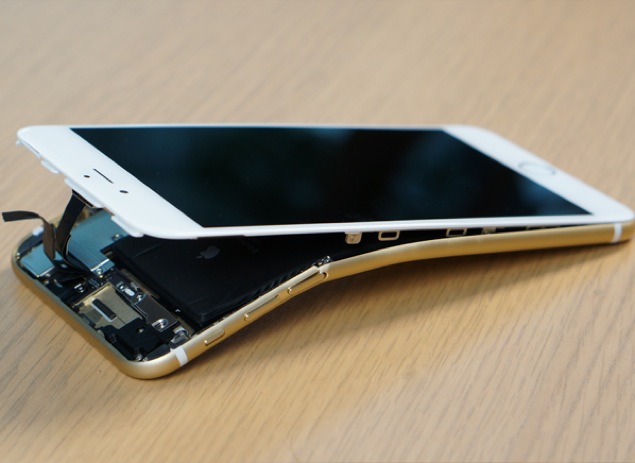 iPhone 6 Plus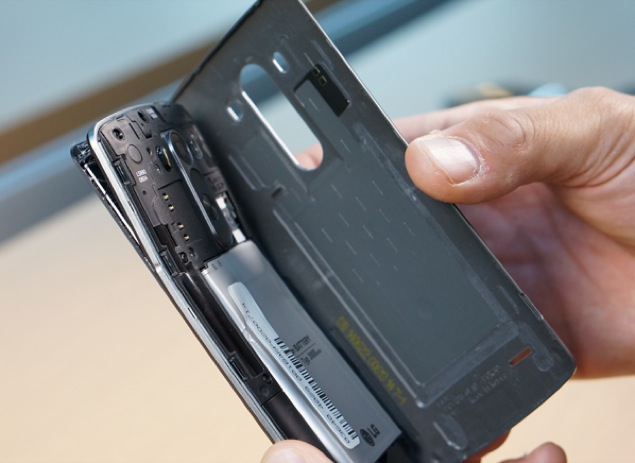 LG G3