A recently concluded charging speed test claims that Asus ZenFone 2 and Samsung Galaxy S6 offer most power in the shortest amount of charging time.
Tom's Guide had put seven popular smartphones namely - Asus ZenFone 2, Apple iPhone 6, OnePlus 2, Motorola Google Nexus 6, Motorola Droid Turbo, LG G4, and Samsung Galaxy S6 - against each other in a bid to find the fastest-charging phone. The findings showed that the ZenFone 2 topped the list for tests with short durations of charging, though it lost to Galaxy S6 in full charge.
"We took into account the size of each phone's battery and how much charge each device had after 15 minutes and 30 minutes, to calculate milliamps per minute," explains Alex Cranz of Tom's Guide.
The test showed that at 5 minutes, the Zenfone 2 was at 17 percent of its charge, the highest in shortest period, while the Galaxy S6 was at 11 percent. The iPhone 6 was the slowest with just 6 percent.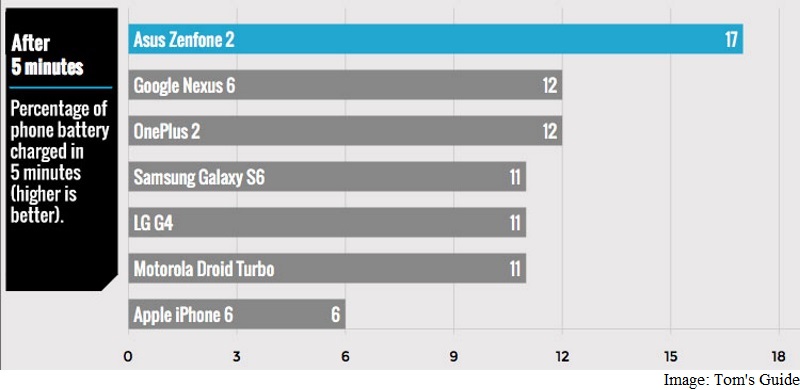 At 30 minutes, both the ZenFone 2 and Galaxy S6 reached 53 percent charge. They were followed by Nexus 6 and LG G4 with 44 and 42 percent charge respectively. The OnePlus 2 and iPhone 6 were the last of the lot with just 34 and 36 percent charge respectively.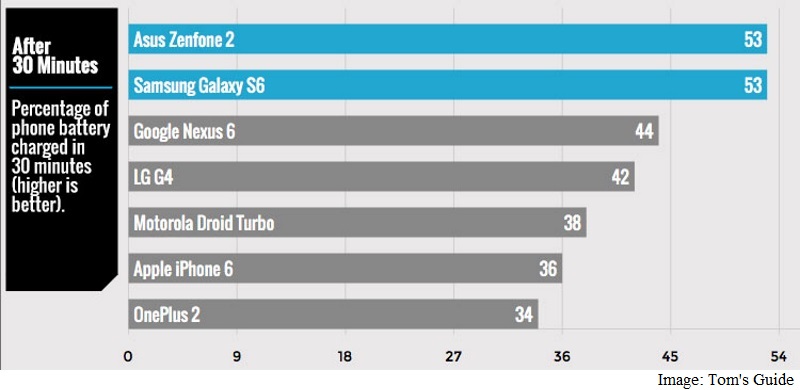 The Samsung Galaxy S6 trumped all in reaching 80 percent in just 48 minutes followed by Asus ZenFone 2 which took 56 minutes. All the rest of the smartphones in the test took over an hour to reach 80 percent mark.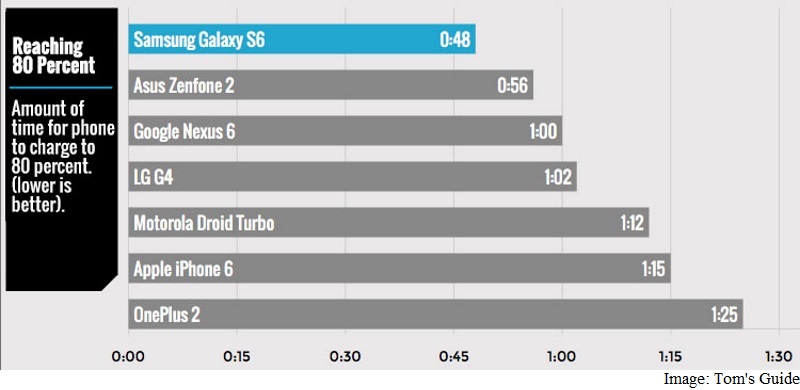 The ZenFone 2 slipped to fifth position on reaching 100 percent as it took 1 hours and 49 minutes. The Galaxy S6 was the fastest and took just 1 hour and 22 minutes to fully charge, according to the test. The LG G4, Droid Turbo, and Nexus 6 followed next while OnePlus 2 and iPhone 6 were the slowest in reaching 100 percent charge. The test pointed that the iPhone 6 after reaching 80 percent charge in 1 hour and 15 minutes took an another 1 hour and 20 minutes to reach the full charge mark.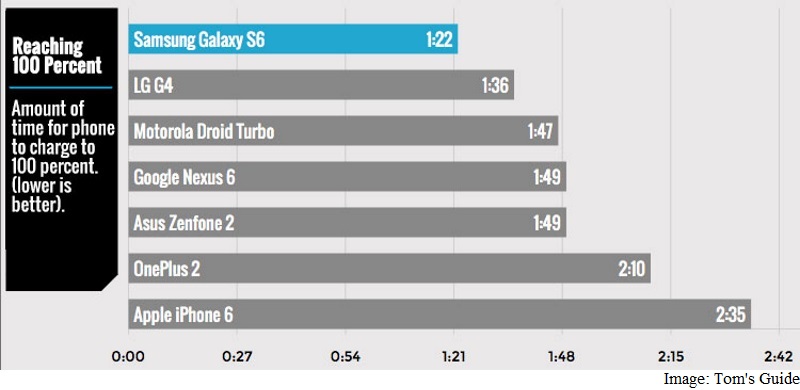 While the charging test results might not be a deal breaker for many consumers, but it definitely gives an idea how the handset manufacturers are working on some basic functionalities such as charging speed. It's clear from the tests that the fast charging mechanism that smartphones ship with - such as Qualcomm's Quick Charge (LG G4), Motorola's Turbo Charge (Droid Turbo and Nexus 6), Boostmaster technology (ZenFone 2), and Samsung's own tech in Exynos chips - do offer an advantage. The OnePlus 2 has been criticised by geeks for its lack of quick charging, and the results for everyone to see.