Most brands consider celebrity endorsements as a way to break away from the clutter and drive home the message about their products. However, celebrities and brand associations don't always work out, especially when you throw in social media to the mix.
Samsung roped in Spanish tennis player and current world number 4 David Ferrer to harp about its latest flagship Galaxy S4. On April 30, Ferrer took to micro-blogging website Twitter to say that he was mighty impressed with the S Health feature of Samsung Galaxy S4 and that this feature was helping him train.
While that seems a perfectly appropriate message to get people talking about the Galaxy S4, there was one small problem: Ferrer used an iPhone to send this tweet.
While Ferrer later deleted this tweet, it was captured by an alert user and later shared by TUAW website.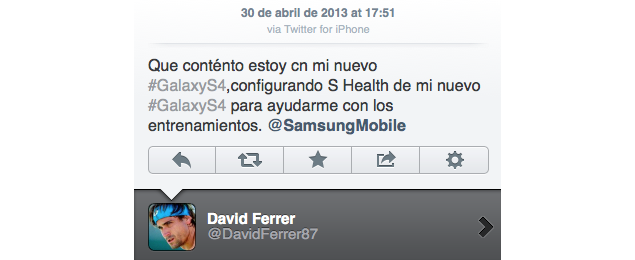 Ferrer is not the first celebrity to be caught with the proverbial foot in his mouth. Earlier this year, Alicia Keys found herself in a similar situation. At the launch of BlackBerry Z10, Keys took centre stage with BlackBerry CEO Thorsten Heins as the company announced that she will be the new Creative Director for BlackBerry.
However, a few days post her announcement, Keys was spotted sending tweets through Tweetdeck app on her iPhone. Though Keys later tried to clear the air by claiming those tweets were not her own but posted by a third-party on her behalf, the damage had already been done. Critics even pointed out that Keys had been posting photos using Instagram, an app which was not available on BlackBerry 10 smartphones at that time.
Even Oprah Winfrey had to face similar embarrassment. Winfrey went gung-ho praising Microsoft's Surface tablet saying on her website that "The Surface, Microsoft's first tablet, feels like a Mercedes-Benz to me, people!" and later took the micro-blogging website Twitter to inform her followers that she had bought 12 Microsoft Surface tablets as Christmas gifts. However, this tweet of hers had been posted from an iPad.
Some of the Indian celebrities too have been spotted making similar gaffes. One such example is that of Sonam Kapoor who was seen using Ubersocial Twitter app from her BlackBerry smartphone while she was still associated with S Mobility (Spice).