Tag Heuer, the firm famously known for its premium line of watches and sunglasses, has announced its first premium smartphone in the market - the Meridiist Infinite. The phone's USP is its 'Perpetual Power', which uses transparent photovoltaic cells behind the sapphire display to capture sunlight or certain types of artificial light to charge the battery.
According to Tag Heuer, the Meridiist Infinite has been created using top-of-the-line materials along with a high-grade build quality, all of which costs a boatload of money.
Tag Heuer will make its Meridiist Infinite smartphone available starting July with select jewellers and retailers. The official price of the phone has not been mentioned, however the preceding prices are said to be around $5,000, as per VR Zone.
Not all the hardware specifications of the premium handset are known. However, few details have been provided by the firm itself, in the form of a video, dedicated to Meridiist Infinite.
Tag Heuer's Meridiist Infinite device features sapphire crystal screen, below which lies a lens substrate with electric conductors, below which lies a layer of transparent photovoltaic cells, and finally, below it all, the LCD display.
The photovoltaic cells are said to charge the phone automatically with the help of solar lights, thus making Meridiist Infinite a rare device that can be solar-charged. The phone can also be charged under certain types of artificial light. "A hybrid charging capacity allows automatic charging under certain natural or artificial light sources, even when the battery is empty," states the Tag Heuer website.
The Meridiist Infinite sports a 2.4-inch LCD screen with 240x320 pixel resolution. The phone also comes with an additional display panel at top, showing extra information. The phone comes with 8GB inbuilt storage, 5-megapixel camera and as an unlocked GSM device. The body of the Meridiist Infinite is made up of titanium and carbon and will be manufactured in limited numbers - 1,911.
Talking about premium handsets, Vertu last October launched its Constellation smartphone for EUR 4,900, which translates to roughly Rs. 4,16,000. The Vertu Constellation features a 4.3-inch HD display with 342ppi pixel density which is protected by a 5.1-inch piece of sapphire crystal which the company claims can only be scratched by a diamond. The device's rear case comes wrapped with calf-leather which is available in five colours, Black, Cappuccino, Orange, Mocha, and Raspberry.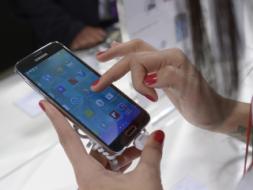 Mobiles launched in March 2014