Sony has unveiled the Xperia Z5 Premium, the world's first smartphone with a 4K UHD display, which means it has four times as many pixels as a full-HD display.
Ever since the first smartphone made the jump from full-HD to Quad-HD display, the question became which will be the first manufacturer to release a smartphone with 4K Ultra-HD display, and Sony has won that race with the Sony Xperia Z5 Premium. Of course, the benefits of cramming in over 800 pixels per inch on a screen that's unlikely to be very far from your eyes at any given point are questionable, not least because 4K by itself has an ecosystem problem.
Sony and other manufacturers have been trying to address this in part by launching a range of 4K devices, including cameras that can record 4K video, which means you have something to watch at the highest quality on your shiny new displays. YouTube also supports 4K resolution, which means you will have at least some content to watch at full resolution, should the creators of the video have uploaded it in 4K.
Sony has the Xperia Z5 Premium upscale your favourite content to 4K, enhancing "any native or third party-videos or photos so you can view Netflix, YouTube or your holiday shots in 4K detail". Of course, the Xperia Z5 Premium also comes with 4K video recording and other specifications that are nearly identical to the Sony Xperia Z5 and Sony Xperia Z5 Compact.
The Sony Xperia Z5 Premium is powered by a Snapdragon 810 processor and it comes with 3430mAh battery with quick charging support. It comes with 32GB internal storage, with the capability to take a 200GB external microSD card, which offers extra room for 4K videos and movies.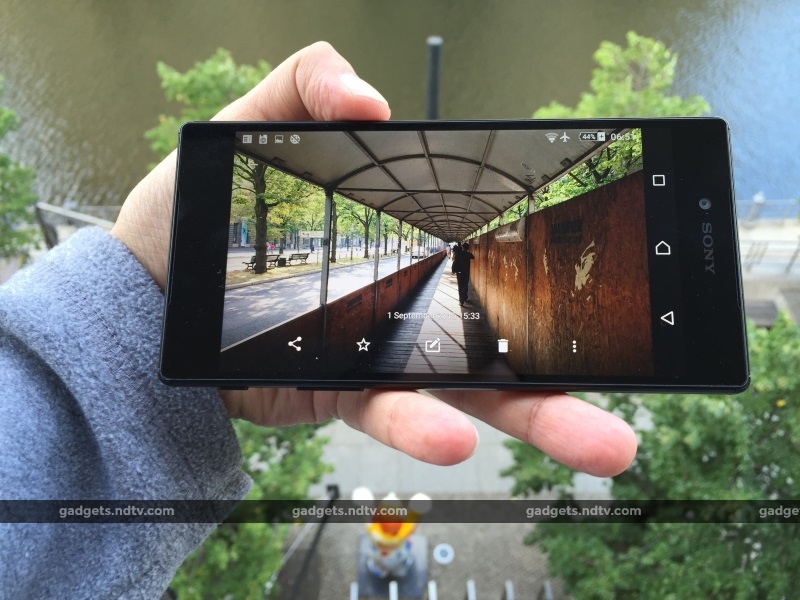 Xperia Z5 Premium also feature's Sony's on display feature - the data transfer between processor and device is optimised so Xperia Z5's display memory technology remembers the display of images seen on your smartphone and caches the image or video so that you don't need to reload the full image each time you view it - preserving battery power in the process. Connectivity options on the Sony Xperia Z5 Premium include DLNA and MHL 3.0 to enjoy your content on a 4K TV.
(Also see: Sony Xperia Z5 Premium full specifications)
It also includes High-Res Audio support as well as DSEE HXTM, which upscales the audio fidelity of your existing MP3, AAC or Spotify tracks to "near High-Res audio quality". Sony claims its LDAC codec transmits data three times more efficiently than legacy codec over Bluetooth, enabling efficient wireless audio streaming.
(Also see: Sony Xperia Z5 Premium vs. LG G4 vs. Samsung Galaxy S6 vs. iPhone 6 Plus)
At the launch event in Berlin, Sony also unveiled the Xperia Z5 and Xperia Z5 Compact. Sony Xperia Z5 Premium will hit the markets in November 2015, while Xperia Z5 and Xperia Z5 Compact will launch globally from October 2015. The Sony Xperia Z5 and Sony Xperia Z5 Premium will be available in both single SIM and dual SIM variants, with India expected to get the dual SIM models of the phones. There's no word so far on pricing of the phones.
(Also see: Sony Xperia Z5 vs. Sony Xperia Z5 Compact vs. Sony Xperia Z5 Premium)
Disclosure: Sony sponsored the correspondent's flights and hotel for the launch event in Berlin.