Sony has teased a new selfie-focused device on Monday, coupled with a July 8 date, on one of its social media accounts.
Sony Xperia on Monday tweeted "See your #selfies in a whole new light," followed by an image of a group selfie, and the caption, "#GetTheFullPicture #Tommorow", with a date. This indicates that the Japanese smartphone maker might be readying a handset with more focus on its front-facing camera.
The Xperia Blog speculates that the upcoming device will be an Xperia smartphone that will come with a flash alongside the front-facing camera, letting users take selfie images under low-light conditions. Nothing of course can be confirmed yet, and one would have to wait till Tuesday to know more.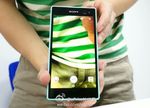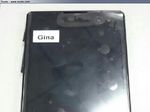 On the off chance however, it may be a front-facing Lens Camera attachment, and not a Sony Xperia smartphone. To counter that possibility however, comes a new leak picturing the alleged selfie-focused Sony smartphone, reportedly codenamed 'Gina'. The images showcase the front and back panel of the alleged device. The front panel in the image shows the smartphone's front-facing camera with an integrated flash on its right side. Not all the specifications have been known for the handset but GforGames mentions that the handset will be promoted with the name 'Selfie Taker' and will be available globally.
Nokia, is also said to making a selfie-focussed smartphone codenamed 'Superman'. The report citing some sources familiar with the matter claim that the alleged Nokia 'Superman' is currently under development and sports a 5-megapixel camera at the front.
Notably, the recently unveiled HTC One (M8) also packs a 5-megapixel front camera. We assume the same or higher resolution on the Sony Xperia smartphone hinted above.
While big firms and their flagships, like Samsung's Galaxy S5, LG G3 or Sony's Xperia Z2, come with 2 or 2.1-megapixel front-facing cameras, some other firms' devices, like Gionee's Elife S5.5, come with 5-megapixel front-facing camera. The Oppo N1 however comes with a 13-megapixel swivel (rotational) camera.