Multiple iPhone 6 Plus users are reporting accidental bending of their handsets while in the front pocket. Additionally, a YouTube video has surfaced on the Internet that puts the iPhone 6 Plus through the 'bend test'.
Numerous reports have appeared online citing multiple iPhone 6 Plus users who suffered accidental bending beyond repair while carrying the handset in their pockets.
---
Update: Cult of Mac has posted pictures of other smartphones being bent, highlighting this may not be a problem specific to manufacturing problems with the iPhone 6 Plus.
"Any phone made of metal is still subject to the laws of physics, but to reiterate that this isn't exactly a problem exclusive to the iPhone 6, here's a look at other Android and Apple phones that have bending problems," the report says, before sharing multiple pictures of other Android, BlackBerry and indeed iPhone models in bent shapes.
---
A user detailedthe issue on a MacRumors forum post titled, 'iPhone 6 Plus slightly bent after 2 days'. He said he'd noticed a slight bend on his iPhone 6 Plus when he kept the device in his front pocket for about 18 hours. Another user noted that his iPhone 6 Plus had bent while it was kept in the front pocket.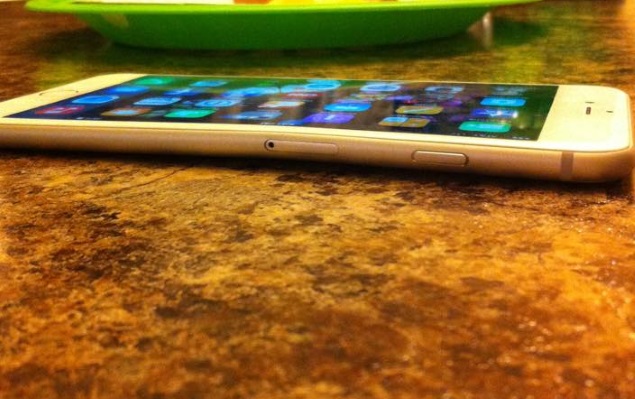 Following reports of bending incidences, Lewis of Unbox Therapy decided to put the iPhone 6 Plus through a bend test. In the video, Lewis is seen using just his hands for exerting pressure on the iPhone 6 Plus from the rear panel and during the course of the test, a bend is seen just below the volume rocker. Lewis points out that the point housing the power, and volume keys might be the weakest spot.
After the completion of the iPhone 6 Plus bend test, the handset was still working fine; however Lewis informed 9to5mac that the display cracked when he attempted to bend the body back into shape.
9to5macalso points that Apple is not willing to replace the bent iPhone 6 plus units for free, and is yet to respond to the issue officially. Of course, as with the iPhone 4 wireless 'death grip' issue, Apple may very well tell users they're holding (or in this case, pocketing) the smartphone wrong. User comments on multiple iPhone 6 Plus bending reports also joke about Apple planning to introduce a new range of apparel that will protect the iPhone.
For those unaware, the iPhone 6 Plus is slim 7.1mm-thick smartphone built out of aluminium and glass, and sports a 5.5-inch screen. Aluminium is a malleable metal, in fact, is considered one of the most malleable metals, second only to gold. Apple seems to have made a serious error in judgement when choosing the 'premium materials' for its new large-screen smartphones, an issue that Samsung famously avoids with its plastic phone bodies for the Galaxy Note phablet series, while LG recently took the issue on directly with the G Flex, creating a truly flexible phone that can regain its shape and withstand up to 40kgs of weight.
Following the iPhone 6 Plus bend test, Unbox Therapy went on to post a bend test of the 5.7-inch Galaxy Note 3 (151.2x79.2x8.3mm) in comparison, and found that while the phone does flex, it regains its shape. The overall thickness of the smartphone is also a factor in helping protect from bending stresses.
Considering the breadth, height and thickness of the iPhone 6 Plus (158.1x77.8x7.1mm), carrying the new Apple smartphone in a pocket that has little space for the handset to slide in or out is risky, and can lead to the bending of the phone, as reported by many users. Placing it in the back pocket could have even more disastrous consequences. The pressure put on the device while sitting now appears to have a higher chance to damage the device, unlike previous iPhone variants.
While this appears to be very bad news for iPhone 6 Plus adopters, it surely implies that case makers will have a field day providing cases that reinforce the structure. Of course, Apple may very well hand out free bumpers, as it did in the iPhone 4 wireless death grip or 'antennagate' issue. The new bending issue is being alternatively termed 'bendgate' or 'bentgate' by users.
Apple on Monday had announced that it sold more than 10 million units of iPhone 6 and iPhone 6 Plus globally, setting a new record for iPhone sales during the opening weekend.