Battery life has been one of the biggest concerns for smartphone owners; though if a new study published in a journal last week is to be believed, then lithium-ion batteries might soon offer twice their capacity soon.
Published by researchers at Samsung, the study claims the new technology can enable batteries to offer up to 1.5 and 1.8 times higher capacity than those of current commercial lithium-ion batteries. Samsung has come up with new coating technique for battery cathodes that promises to overcome limitations of current lithium ion batteries.
As per the study, published in Nature Communications, the new battery technology that employs use of graphene on the silicon surface offers volume expansion that can give extended battery life.
The journal explains, "Here we report direct graphene growth over silicon nanoparticles without silicon carbide formation. The graphene layers anchored onto the silicon surface accommodate the volume expansion of silicon via a sliding process between adjacent graphene layers. When paired with a commercial lithium cobalt oxide cathode, the silicon carbide-free graphene coating allows the full cell to reach volumetric energy densities of 972 and 700 Wh l-1 at first and 200th cycle, respectively, 1.8 and 1.5 times higher than those of current commercial lithium-ion batteries."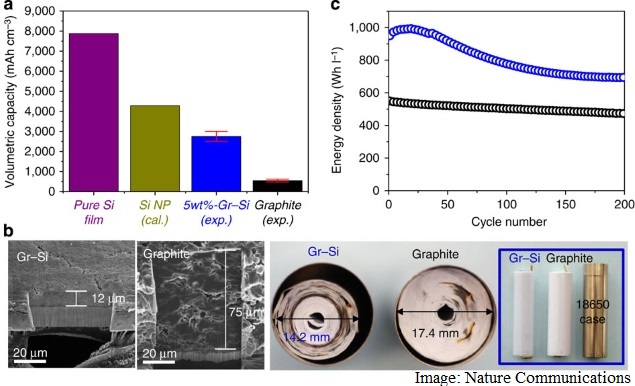 Samsung appears certain the new lithium-ion battery technology will deliver extended battery life and will be a commercially viable option. "This observation suggests that two-dimensional layered structure of graphene and its silicon carbide-free integration with silicon can serve as a prototype in advancing silicon anodes to commercially viable technology," writes journal.
The South Korean consumer electronics giant acknowledges that the new technology weakens batteries competitiveness in the volumetric energy density and cycle life due to additional discharge cycles. The company said it is working to improve the effectiveness of the battery.
Last year, US scientists developed a 'smart' lithium-ion battery that alerted users of potential overheating and fire. The technology was designed for conventional lithium-ion batteries now used in billions of cell phones, laptops and other electronic devices as well as a growing number of cars and airplanes.
For the latest tech news and reviews, follow Gadgets 360 on Twitter, Facebook, and Google News. For the latest videos on gadgets and tech, subscribe to our YouTube channel.
Related Stories