As spotted in a recent patent granted to Samsung by USPTO, the South Korean manufacturer may be working on a dual-OS smartphone-notebook hybrid that features a dock for a phablet (like the Galaxy Note) that acts like the brains for the device.
The phablet would run Android when not connected to the laptop dock, and run Windows when connected to the dock, though Samsung notes other operating systems can be used. Patently Mobile reports that the hybrid device will be also able to charge the smartphone when it is connected to the notebook via dock, which can be immensely helpful for people on the run.
The report includes few images of the Samsung's new patent showing a notebook with a phablet docking placement right under the display. As seen in the patent images, the notebook keyboards will be a bit cramped while will miss out on touchpad. The patent also refers usage of the smartphone's display as touchpad for the notebook.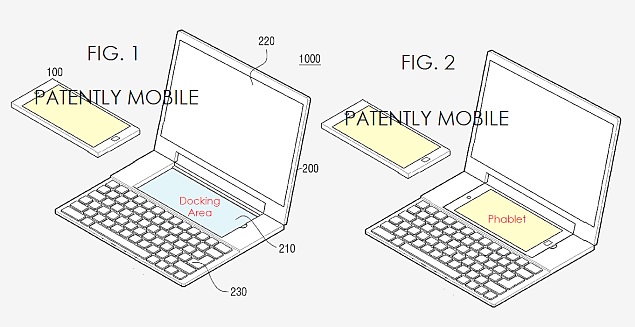 The report quotes the patent on how Samsung describes its new device and it read, "Herein, the first operating system may be Android, and the second operating system may be Windows." Interestingly, the patent refers usage of any other operating system in the either of the devices opening possibilities for Tizen. "Other operating systems may also be applied," it said.
The patent also tips non-inclusion of basic components such as hard disk and processor to make the notebook light - this also indicates the laptop dock will not work standalone at all, and even the BIOS will be on the paired smartphone.
The patent further notes, "The operating program may include the first operating system and the second operating system. Specifically, the first operating system may be an Android operating system which is driven in a smart phone, etc., and the second operating system may be a Windows operating system which is driven in a notebook PC, a desktop PC, etc."
Interestingly, this fits in well with the concept of Windows 10 Continuum, which lets a Windows 10 Mobile device when connected to an HDMI display can present a desktop UI to users, complete with mouse and keyboard functionality.
Finally, this also fits in well with Samsung's recent tie-up with Microsoft to preload the Redmond giant's app on its Galaxy S6 and Galaxy S6 Edge smartphones - especially if the partnership extends to the Galaxy Note 5 or another upcoming Windows 10 phablet device from the South Korean company.
The idea behind the new device is along the lines of how Asus' PadFone smartphone-tablet hybrid works, though it includes surprises such as dual-OS. It will be interesting to see how Samsung implements the whole idea of smartphone-notebook hybrid, considering that Apple has been lately pushing to gain bigger share of enterprise sales.