Certain images of the a Samsung device with the model number GT-I9502 have appeared on a Chinese forum that seem to reveal a Chinese variant of the Samsung Galaxy S IV.
The images are a first for the device and offer quite a bit in terms of the deign and hardware. The person who uploaded the images to
52 Samsung
claims that the device is dual-SIM and will make its way to China Unicom. It would be wise not to jump the gun just about yet considering it could be just one of the company's prototype designs.
The images highlight the looks of the Note II in terms of design with an elliptical Home button and a glossy back. The Back and Menu capacitive buttons are located on either side of the Home button. The front shows the typical Samsung branding sitting just below the earpiece surrounded by other sensors and a front camera as well.
The back shows a camera, slightly protruding outwards with the LED flash just below it. Further down is the Samsung branding and the speaker opening at the bottom left. We can also see the Micro-USB port. One of the images reveal what looks like the volume rocker placed on one side.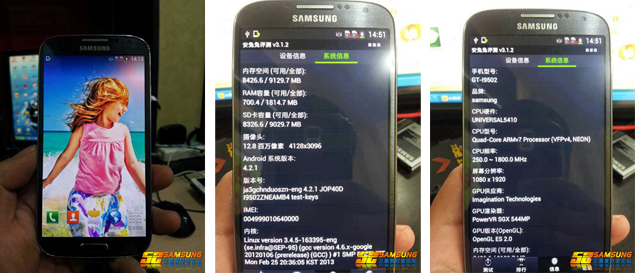 Some of the images reveal a lot of info regarding the device specs. They show the phone featuring a 1080x1920 display, a 1.8GHz quad-core Exynos 5410 processor with 2GB RAM, PowerVR SGX 544MP GPU and Android 4.2.1.
It's evident that these specs ware pretty much in line with the earlier rumoured specs surrounding the device. As of now there is no way to verify the authenticity of the images and we'd suggest that you rather wait for the real deal when Samsung announces the device on March 14 at the Times Square event.
Earlier we saw a
report
from SamMobile mentioning that the Galaxy S IV will come with a new display technology from Samsung in the form of a "green PHOLED", that bears similarities to the company's current AMOLED displays. According to the blog's "insider", the new display uses colour GREEN-YELLOW to make it 25% more efficient in terms of battery consumption.
The Samsung-focused blog also confirmed through its same "insider" source that the device will pack an eight-core Samsung Exynos Octa processor, a 13-megapixel rear camera, 2 GB RAM, and a Photosphere-like function called Samsung Orb. It will run Android 4.2.1 at launch, with an update to Android 4.2.2 promised to come in the same month as its release.