Samsung Galaxy S6 has helped boost the market share of Android in the US during three months period ending in May, says Kantar Worldpanel ComTech research firm in its latest smartphone sales report for the quarter ended in May, and published on Tuesday. Additionally, the report has claimed that LG nearly doubled its share in the US smartphone market year-over-year.
The report finds that Android OS market share in the US rose by 2.8 percent points to 64.9 percent in the three months ending in May. Kantar claimed that the sales of the Samsung Galaxy S6 smartphone helped the company to make up for its lost ground.
(Also see: iPhone Overtakes Android in US for the First Time Since 2012: Report)
Kantar's Carolina Milanesi, Chief of Research at Kantar Worldpanel ComTech said, "The first full month of sales of the Galaxy S6 allowed Samsung to regain the market lead in the US and grow its share of Android sales from 52 percent in the three months ending in April to 55 percent for the three months ending in May."
The report added that Samsung's share of the US smartphone market grew quarter-over-quarter, and the Samsung Galaxy S6 became the third bestselling smartphone in the US after the iPhone 6 and Samsung Galaxy S5. Milanesi adds that Samsung's year-over-year performance also improved, saying the firm's US market share was now "down only 0.5 percentage point compared to 1.6 percentage points in the three months ending in April."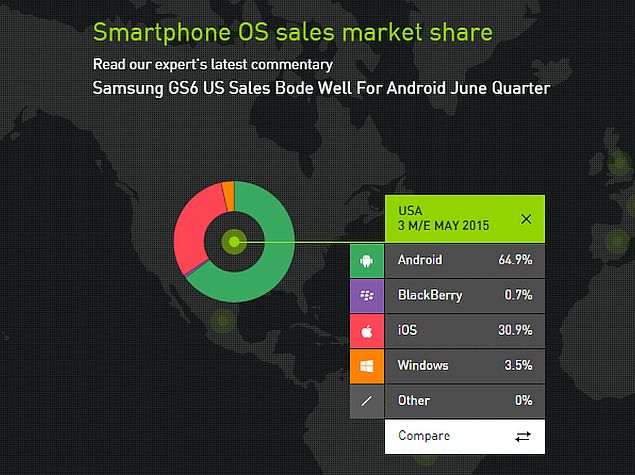 She clarified that Android-based smartphone sales in the US were not just fuelled by Samsung but also LG. "Other tier-one Android players, such as HTC and Motorola, had a more difficult period, with their share decreasing both year-over-year and period-over-period, raising hopes for competitors - such as Huawei and Sony, who have yet to wow US consumers - that share could be up for grabs," said Milanesi.
The report went on to suggest that iOS shares declined both period-over-period and year-over-year in the US.
(Also see: iPhone 6 Helped iOS Eat Into Android Smartphone Sales: Kantar)
Kantar Worldpanel's report also revealed that Android did not show much improvement in the Europe's big five (Great Britain, Germany, France, Italy, and Spain) countries, where its market share dropped 2.9 percent year-over-year. The report added that Apple's iPhone 6 topped the charts in Great Britain, Germany, Italy and France.
"Britain remains the iOS stronghold, forcing Android vendors to rely more on winning customers from Apple than from other Android players. In the three months ending in May, only 5 percent of new Android buyers came from Apple, compared to 11 percent for the same period in 2014," said Dominic Sunnebo, Business Unit Director at Kantar Worldpanel ComTech Europe.
Talking about Chinese market, Kantar's data claimed that Huawei is now placed in top three alongside Apple and Xiaomi. "In urban China, the two-horse race became a three-horse race, as the market leader Apple, followed by Huawei now at number two, and Xiaomi in the third spot, are all within a 0.5 percentage point share of one another," said Tamsin Timpson, Strategic Insight Director at Kantar Worldpanel ComTech Asia.
Kantar's latest smartphone sales data also revealed that Windows Phone gained shares in Europe - up by 1.5 percent year-on-year in the three months ending in May.