AnTuTu, an Android benchmark app, has come out with its quarterly report showing the best performing Android smartphones. Samsung's new flagship the Galaxy S6 with an AnTuTu score of 67,520 is the clear winner beating other high-end smartphones including HTC's latest One M9,
Motorola Droid Turbo
,
Motorola Google Nexus 6
and others.
(Also see: Samsung Galaxy S6 vs. HTC One M9 vs. Motorola Droid Turbo vs. Google Nexus 6)
The Samsung Galaxy S6 is closely followed by its dual-edge display variant, the Galaxy S6 Edge, which also crosses the 60,000 mark with a score of 62,373. Samsung, as of now, has not detailed the chipset used on both the Galaxy S6 and Galaxy S6 Edge. AnTuTu however suggests that both the handsets are powered by Exynos 7420 processor.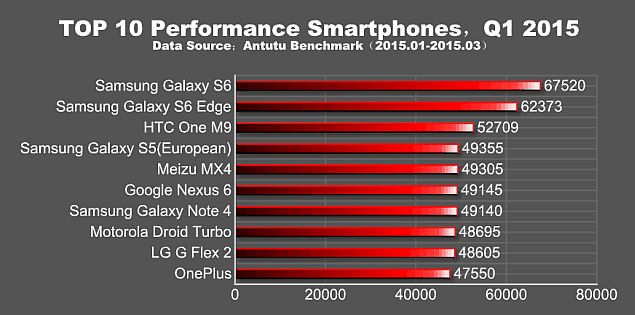 The HTC One M9, which is powered by a Qualcomm Snapdragon 810 processor, is seen on the AnTuTu benchmark chart as a distant third with a score of 52,709 while Samsung Galaxy S5 (European variant) featuring Qualcomm Snapdragon 805 is at thr fourth position with a score of 49,355. The Meizu MX4, Nexus 6, and Samsung Galaxy Note 4 follow with scores around 49,000 on AnTuTu.
The Motorola Droid Turbo and LG G Flex2 are at eighth and ninth position with scores around 48,000 marks while OnePlus One is at the last spot with a score of 47,550.
AnTuTu has also revealed top 10 performance chips of Q1 2015 with the Qualcomm Snapdragon 805, which features in the most handsets in AnTuTu's top 10 list of smartphones, with a share of 50 percent followed by Samsung's Exynos 7420 with 20 percent share. Other chipsets such as Snapdragon 810, Snapdragon 801, and MediaTek MT6595 have 10 percent each.
The benchmarking app further notes that Qualcomm, despite missing the top spot, still has 70 percent SoC share in total. "We could notice Qualcomm is still the biggest winner, 70 percent of total. Samsung got the best performance. Although MTK could also got the seats, it should try to improve their GPU performance in the future," adds AnTuTu.
AnTuTu claims that it collected the data from its AnTuTu 5.6.1 and 5.6.2 versions across 160 countries and has been collected between January to March.