Just a day before releasing its latest flagship, the South-Korean electronics giant has reportedly updated the Galaxy S5's firmware to provide more stability.
According to a report, Samsung has pushed a stability update out to the Galaxy S5, called software update version XXU1ANCE. It is said to be around 30MB in size, and it reportedly doesn't make any other major changes to the Galaxy S5 software. The update should install after users open retail units on day one, and presumably won't be preinstalled.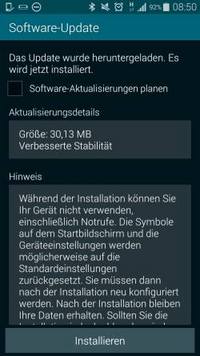 While the smartphone will also go on sale in India on Friday, the South Korean giant had already confirmed to NDTV Gadgets that the phone will be priced at Rs. 51,500. The company said this is the "best buy" price. Earlier on Monday a retailer claimed that the Galaxy S5 will be priced at Rs. 51,500 (MOP), while the MRP will be Rs. 54,300.
The retailer has further claimed that the Galaxy S5 will be available under a limited period cash back offer at Rs. 49,990 after 20 percent cash back on Citibank cards.
The news comes from a Twitter user named Manish Khatri, who is a retailer (Mahesh Telecom) in Mumbai. Khatri said on Twitter, "Galaxy S5 MRP Rs. 54,300, MOP Rs. 51,500, our price Rs. 49,990/- (20%cash back offer on citi cards*)."
Notably, the Samsung Galaxy S5 variant launched in India comes with the Adonis Prime2 (Quad 1.9GHz + Quad 1.3GHz) + XMM6360 octa-core chipset and 3G connectivity.
The Samsung Galaxy S5 runs Android 4.4.2 KitKat out-of-the-box. It features a 5.1-inch Super AMOLED display with a 1080x1920 pixel full-HD resolution. It comes with 2GB of RAM and will be available in India with 16GB storage option only, with microSD card expandability up to 64GB.
For the latest tech news and reviews, follow Gadgets 360 on Twitter, Facebook, and Google News. For the latest videos on gadgets and tech, subscribe to our YouTube channel.
Related Stories