Samsung defends its crown as the world's top smartphone maker Monday, unveiling a new premier smartphone in the face of tougher markets and a rising challenge from China.
On the opening day of the four-day Mobile World Congress in Barcelona, Spain, the South Korean giant launches its flagship device, almost certainly a Galaxy S5 smartphone rumoured to be equipped with a fingerprint scanner and larger screen.
Samsung's brand was stamped on more than 30 percent of smartphones sold in the world last year, about twice the share of archrival Apple, which traditionally skips the world's largest mobile fair.
Despite Samsung's dominance, early signs are emerging of difficult times ahead.
A 42.3-percent surge in smartphone sales to 968 million units last year was propelled almost entirely by developing markets, according to research house Gartner Inc.
The worldwide boom disguised a slowdown in the mature markets such Western Europe and the United States, which are the most profitable, it said.
As a result, smartphone makers are scrambling for new sources of revenue.
"We will see all of the handset companies responding to slowing growth in the smartphone market and the difficulty of making money," said Ian Fogg, senior principal analyst of electronics and media at research house IHS.
"They are going to launch a number of smart accessory devices including wearable devices that will give them opportunities in new markets to generate revenues and growth."
Samsung thus launched an updated smart watch, the Gear 2, on Sunday, adding new features and ditching Google's Android in favour of its own operating system.
Besides an array of features including sports tracking software and a heart rate monitor, the Gear 2 marks an important and widely anticipated step towards independence from Android.
New challenge from China
But Samsung faces other significant challenges, too, notably from China.
Indeed, hours after Samsung launched the Gear 2, rising Chinese smartphone maker Huawei revealed a connected watch of its own.
Huawei, already a major force in building mobile networks and the world number three smartphone maker in 2013, showed off its TalkBand, to be sold for 99 euros ($136).
Connected by Bluetooth to a smartphone, the watch lets you receive calls and messages without removing your mobile from your pocket, as well as measuring the steps you take with a podometer and even following your sleep pattern.
Other Chinese handset makers have global ambitions, too.
China's Lenovo, the number four smartphone manufacturer in 2013, in January agreed the $2.9 billion purchase of the loss-making Motorola Mobility from Google to grab a strong platform in the Americas and a foothold in Europe
At the same time, the online world is elbowing its way into the mobile market.
Facebook's 29-year-old founder Mark Zuckerberg is the star speaker on the opening day of the fair in Barcelona, fresh from his $19 billion takeover of smartphone messenger WhatsApp.
He has come a long way in the mobile world in a short time.
When Facebook sold its shares to the public in an initial public offering in May 2012, "it literally had no mobile advertising revenues," said Eden Zoller, analyst at the research house Ovum.
"It did actually have a pretty strong mobile user base at IPO but what it had failed to do at that time was actually monetise those mobile users," she said.
But the social network - boasting more than 1.2 billion members - quickly repaired its strategy.
By the end of 2013 mobile devices accounted for 53 percent of Facebook's advertising revenue, bringing in $1.2 billion in the last quarter and more than $3 billion over the whole year.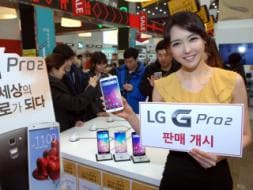 MWC 2014 in pictures