Samsung Galaxy S5, the much-awaited flagship smartphone which went on sale on Friday, isn't easily repairable as its predecessor, the
Samsung Galaxy S4
and even
Apple's iPhone 5s
, a teardown from iFixit has revealed.
iFixit, which has made a name for itself tearing down popular gadgets as soon as they become available, and rating them on ease of repairability and other factors, in addition to posting several do-it-yourself (DIY) repair guides for electronic items, has give the Samsung Galaxy S5 its usual treatment.
The Galaxy S5 scored 5 out of 10 on the iFixit reparability scale (10 being the easiest to repair) whereas the Galaxy S4 scored an 8 and iPhone 5s scored a 6. iFixit noted that this is the lowest repairability score it has ever given to a Samsung smartphone.
The teardown of Galaxy S5 reveals that due to "radical change in design", the smartphone is trickier to repair and the display assembly stands in the way of getting to all the important stuff. While the battery is relatively easy to access, replacing any other hardware now requires removing the screen (unlike the Galaxy S4) and this could cause damage to the display. But once this hurdle is passed, under the hood individual modules are relatively easy to replace.
"The S5 is a bit of a disappointment. Samsung made things harder to fix. The S III and S4 featured internal components on the back of a large display assembly. The S5, however, sandwiches the components in their own difficult-to-access compartment between the display and the battery," iFixit concludes.
It's worth noting that these scores are merely an indicator of the phone's repairability, and will have little relevance to most users, as they are unlikely to try repairing the phone at home.
Samsung Galaxy S5 smartphone is now available
in 125 countries, including India. The smartphone can be purchased via Samsung's India online store and physical retail stores at Rs. 51,500.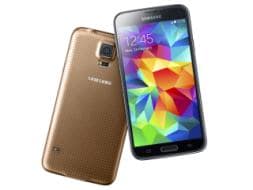 Samsung Galaxy S5 in pictures