A week after the launch of the much-hyped Samsung Galaxy S5 smartphone, a study indicates the device has grabbed nearly 1 percent of the global Android smartphone market.
According to a report by Localytics , an analytics and marketing platform, the Galaxy S5 device has covered an impressive 0.7 percent of all active Android smartphones worldwide. To put this in perspective, Localytics says the iPhone 5s achieved a 1.1 percent share of all iPhone models a week after its launch last year.
On comparing the graph of both the handsets' OS-based market share post launch, the Samsung Galaxy S5 seems to have fared worse, until you take into account the size of the vast Android ecosystem.
The report also indicates the Samsung Galaxy S5 smartphone is quite popular with Americans. While the US currently holds a 64 percent global share of the device, Europe and other regions hold 23 and 13 percent shares respectively. The Galaxy S5's predecessor, the Galaxy S4, was also very popular in the US, with 51 percent of Galaxy S4 smartphones currently in the market found in the US, 28 percent in Europe, and 21 percent in the remaining countries.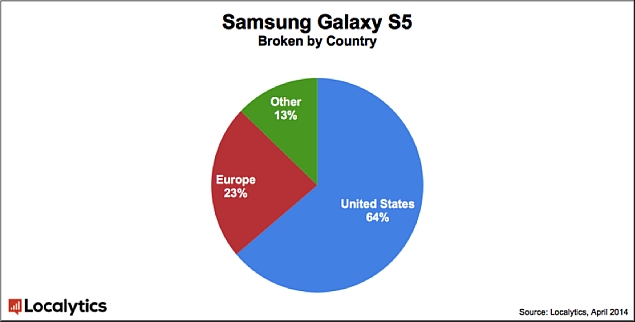 The vast difference between the Galaxy S5's US and European market share is said to be caused by the lack of availability of the handset in some European countries, though it should become more widely-available over time.
The Samsung Galaxy S5 smartphone was launched during the Mobile World Congress 2014 event on February 25 and went on worldwide sale on April 11. Some of the key specifications of the handset are Android 4.4.2 KitKat, 5.1-inch Super AMOLED display with a 1080x1920 pixel full-HD resolution, 2.5GHz quad-core processor coupled with 2GB of RAM, and 16-megapixel rear and 2.1-megapixel front-facing camera.
For the latest tech news and reviews, follow Gadgets 360 on Twitter, Facebook, and Google News. For the latest videos on gadgets and tech, subscribe to our YouTube channel.
Related Stories