Google and Samsung might soon release a Google Play edition of Samsung's flagship smartphone, the Galaxy S5, as the device has been listed in a strange manner on the Google Play store in the US.
The thumbnail image of the Galaxy S4 Play Edition listing on US Google Play store was briefly replaced by an image of the Galaxy S5, featuring the 'perforated' texture of the back panel, and other identifying features, along with the iconic sunbeam live wallpaper seen on other Google Play edition devices.
Interestingly, the image used on the Google Play Store listing shows the handset with both hardware and software keys on the front-end of the Galaxy S5, something never seen before with Samsung. Google later removed the Galaxy S5's image from the Galaxy S4 Play Edition listing.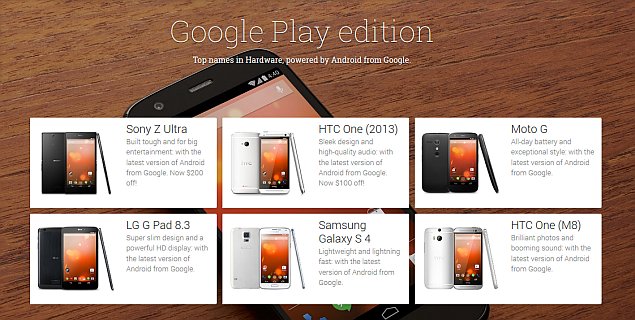 A Samsung Galaxy S5 Play Edition is still expected to be launched, especially as HTC has already launched the Google Play Edition of the One (M8) in March, for $699 (Rs. 42,250 approximately).
Additionally, the Sony Z Ultra Google Play edition, which came out in December last year, got a price cut of $200 and is now available for $449.
Motorola also announced its Google Play Edition of the budget Moto G smartphone in January this year. The Moto G Google Play edition is available for a budget-friendly price of $179 (Rs. 11,000 approx.) for the 8GB variant, and $199 (Rs. 12,000 approx.) for the 16GB variant.
Some of the key specifications of the Samsung Galaxy S5 (Pictures| Review)smartphone include 5.1-inch full-HD screen, 2GB of RAM, 1.9GHz Exynos Octa (India) processor (Snapdragon 801 chipset available in other regions), 16-megapixel rear and 2.1-megapixel front-facing camera, Android 4.4.2 OS, and 2800mAh battery capacity. The handset also includes a heart-rate sensor and a fingerprint sensor.