The Black Editions of the Samsung Galaxy S4 and Galaxy S4 mini, which were spotted briefly on the company's Russian website few days ago, have now been made official by the firm. Samsung also reveals that its flagship handset will receive more colour combinations.
The faux-leather coating seen on the Black Edition's back panel will also arrive in White, enabling more colour combinations - Rose Gold White, Rose Gold Black, and Deep Black. The Deep Black version is expected to arrive by the end of this month.
"Samsung Electronics strengthens the premium lineup adding GALAXY S4 LTE-A 16GB in a palette of new colours. Samsung Electronics announced that it releases GALAXY S4 LTE-A in Rose Gold White and Black via three major mobile carriers on the 6th, consecutively followed by Deep Black colour version at the end of February. GALAXY S4 LTE-A will now have a total of eight new colours," states the Flicker page of Samsung Tomorrow along with a couple of images.
These new back panels for Samsung Galaxy S4, sport a faux-leather cover instead the original plastic cover sported by the handset when it released last year. The faux-leather design comes from the company's Galaxy Note 3 phablet and has been seen in Galaxy Grand 2 previously.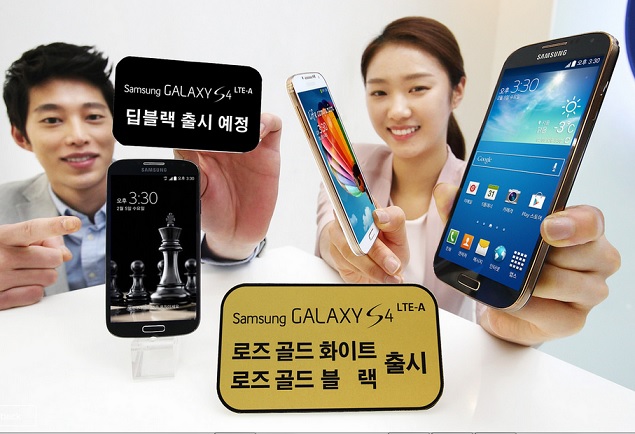 While the firm revamps the looks of its Galaxy S4 handset, its next iteration, Galaxy S5, is being rumoured to feature an on-screen fingerprint scanner.
The smartphone is expected to finally see the light of the day in February as the firm sent out invitations on Tuesday for "Samsung unPacked 5" event on February 24 at the Mobile World Congress in Barcelona.
For the latest tech news and reviews, follow Gadgets 360 on Twitter, Facebook, and Google News. For the latest videos on gadgets and tech, subscribe to our YouTube channel.