After a series of leaks revealing the Android 4.2 software update for the
Samsung Galaxy S III
, a new report claims that Samsung is also working on an Android 4.3 update for the phone.
The more interesting bit is that the leak allegedly comes from Samsung R&D India, if a
report
by Temefy.com is to be believed. According to the website, the company is working on an Android 4.3 build for the Galaxy SIII and the
Galaxy Note II
. The site has also posted an image of a Galaxy S III (GT-I9300) phone running Android 4.3 with Build number JDQ47.I9300XXUFMGQ and Baseband version I9300XXUFMGQ.
The report mentions that Samsung R&D, India, is simultaneously working on Android 4.2.2 Jelly Bean and Android 4.3 Jelly Bean updates for the Galaxy S III. It speculates that Samsung could abandon the Android 4.2.2 update as Google is expected to release Android 4.3, next week.
We'd like to point out that there's no way to verify this information, and it should be taken with a grain of salt. Device manufacturers do work on experimental software internally, and a device spotted running a build of the OS does not imply that an update is imminent. Having said that, we'd expect Samsung to release a software update for the Galaxy S III bringing some features of the
Galaxy S4
to it. Android 4.2 also offers additional features like lock screen widgets and daydream picture mode, so it's likely that the company would be planning to release an update, soon.
However, the Android 4.3 update is an incremental update bringing more changes under the hood, so it's hard to say if the company would altogether abandon development on Android 4.2 just because Google is expected to release the Android 4.3 update. It's worth pointing out that integrating Samsung's UI and UX (user experience) features with Android takes time due to development and testing, but Samsung's score is improving when it comes to OS updates.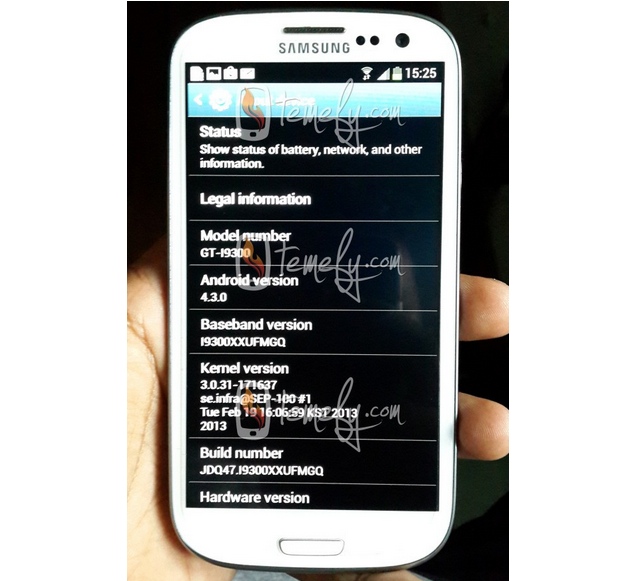 In June,
a near finished Android 4.2.2 firmware for the Samsung Galaxy S III had leaked online
. The update included a number of new software enhancements including a new Galaxy S4-like lock-screen with support for multiple widgets, an additional 'Light' unlock effect and an improved ripple effect compared to the current version, the ability to change clock size and set a personal message. It was reported that Samsung intended to release the update in July or August.
The new firmware also reportedly includes the Adapt Display screen mode that optimises display settings depending on ambient light conditions automatically and offers more natural colours.
It also brings the Daydream lock screen mode, a driving mode, actionable notifications, a new notification tray with additional toggles and a Galaxy S4-like tabbed interface for the phone settings menu. The update also offers a new version of S-Voice, Samsung's voice assistant and adds voice controls for operating the phone using voice commands. It also includes full-screen Samsung apps, a new smart switch widget and a white background in the 3D view mode for the Gallery app.
It's still not known if the final version of the update will also bring the camera features of the Galaxy S4.