After
reports
of Samsung Galaxy S IV receiving smart features such as Smart Scroll, Eye Scroll and Eye Pause, Samsung focused blog, SamMobile
published
alleged screenshots of these features yesterday. Turns out the screenshots were not from the Galaxy S IV user interface but from the leaked firmware for the Galaxy S III which will update the phone to Android 4.2.1. The site has also acknowledged that the Galaxy S IV will also sport these features. This means that the Galaxy S III will also get some features found on the Galaxy S IV.
An Android 4.2 test firmware for the Galaxy S III had
leaked
in February but there was no mention of these features.
Meanwhile another set of alleged Galaxy S IV screenshots made an
appearance
on an Israeli site pointing towards a revamped UI, white background colour for the settings menu and the Smart Stay, Smart pause and Smart Scroll features.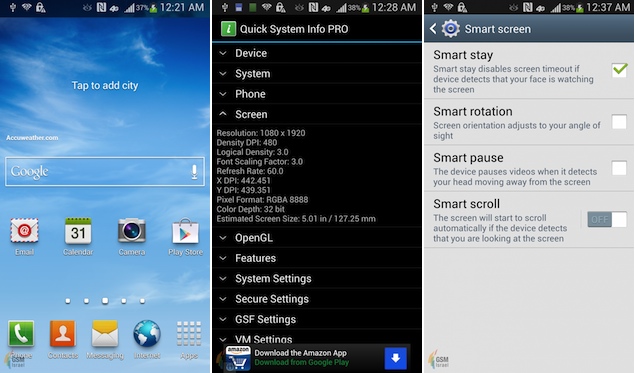 The screenshots which were leaked yesterday had revealed that Smart Scroll would be functional with multiple applications such as Internet web pages, Chrome, Messages and Gmail as well. One of the screen shots showed the Smart Screen section specifically accessible under Settings, listing various 'Smart' features.
Smart Scroll will allow the content on the screen to scroll automatically (considering the feature is turned on) if the device detects the user's attention towards the screen. Smart Pause, on the other hand seems to be restricted to videos, which will be paused once the user looks away from the screen.
While Smart Rotation will adjust viewing angles of the device for the user, another familiar feature is Smart Stay as seen on the Samsung Galaxy S III. The feature uses its front-facing camera to keep the screen alive or lit up when a person is looking at it and automatically dimming it when one looks away.
With Smart Scroll, users will also be able to set the speed of scrolling as per their own convenience. Another thing under their control would be acceleration, which would determine the scroll speed.
It appears that with the Galaxy S IV, Samsung will be focusing more on new software features, instead of flaunting hardware advancements.
Samsung will be launching its latest flagship on
March 14
at an event scheduled at Times Square, New York 7PM EST.