Samsung has been rumoured to be planning an Android 4.3 update for its top-of-the-line smartphones and if a report is to be believed, the
Samsung Galaxy Note II
is the next device to get it.
Sammobile has leaked an Android 4.3 test firmware with build number N7100XXUEMK4, allegedly for the Samsung Galaxy Note II phablet with model number GT-N7100. The site also speculates that the South Korean major will be rolling out the Android 4.3 Jelly Bean update for the phablet this week.
As per the site, Samsung has updated the core UI elements of the Galaxy Note II to match the Galaxy S4 and Note 3's interface. Further, the rumoured update for the phablet will add new features like Samsung KNOX and Samsung Wallet. The update also makes the Galaxy Note II phablet compatible with the Galaxy Gear smartwatch.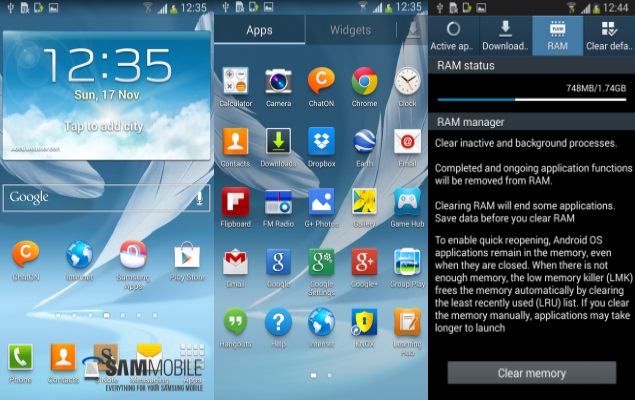 Some other features expected in the update for the Galaxy Note II include OpenGL 3.0 support; improved RAM management; improved display colour reproduction; improved TouchWiz launcher; new Samsung keyboard, and new camera firmware, apart from minor UI tweaks for contacts app, flashlight widget, dialog boxes among others.
Earlier this month, a report indicated that the Galaxy Note II phablets are being updated to Android 4.3 Jelly Bean via service centres in India.
Recently a report suggested that some users in UK were encountering problems with their Galaxy S III smartphone after the Android 4.3 update.
As per the report, the Galaxy S III users were complaining of unresponsive handsets, particularly the lockscreen, after updating the smartphone. Other issues included erratic Wi-Fi connectivity, poor battery backup, and a system hanging problem that required the battery to be pulled out to restart the smartphone.
The report also speculated that the South Korean manufacturer might stop the Android 4.3 update for Galaxy S III, after the issue attracted attention. It also expected that this may result to delay in Android 4.3 update for the Galaxy Note 2 phablet.
However, the leaked test firmware for Galaxy Note II hints that it might be released soon.