Official: Samsung Galaxy Note 5, Galaxy Edge+ With 5.7" Displays, 4GB RAM Launched
Samsung Galaxy Note 5 official specifications
Samsung Galaxy S6 Edge+ official specifications
Samsung is holding the Galaxy Unpacked 2015 event in New York where it is expected to unveil the Samsung Galaxy Note 5 and Galaxy S6 Edge+. With disappointing sales of the two flagships released earlier this year - the Samsung Galaxy S6 and the Galaxy 6 Edge - the new smartphones will be crucial to Samsung's fortunes for the rest of the year.
A number of leaked images of the Samsung Galaxy Note 5 have previously tipped the design of the yet-to-be-announced handset. The leaked images showed a square-shaped Galaxy Note 5 with physical home bottom below the display. Some of the leaked live images of the Galaxy S6 Edge Plus start screen have suggested the name of the handset as Galaxy S6 Edge+, tipping that this might be the official moniker. Last week, Samsung Netherlands website listed the handset's name in a contest as "Samsung S6 Edge Plus" for registrations.
The Samsung Galaxy S6 Edge Plus is rumoured to be the large-screen variant of the Galaxy S6 Edge, and is also said to be the dual-edge display version of the Samsung Galaxy Note 5.
Based on previous leaks, the Samsung Galaxy Note 5 is said to feature a 5.7-inch QHD (1440x2560 pixels) display with a pixel density of 515ppi; 32GB internal storage; a 16-megapixel rear camera; a 5-megapixel front-facing camera, and run Android 5.1.1 Lollipop. Like in the Galaxy S6, Samsung is said to include its latest Exynos chip made by its 14nm process in the flagship phablet instead of the Qualcomm Snapdragon 810 SoC. The Samsung Galaxy Note 5 is also said to be 0.6mm thinner than its predecessor, the Galaxy Note 4, at 7.9mm. Most notably, the Galaxy Note 5 is said to feature no microSD card slot, and sport a non-removable battery.
Based on the teaser image, a third device - a tablet - may also make an appearance.
Of course all these are just leaks, but there isn't long before we find out.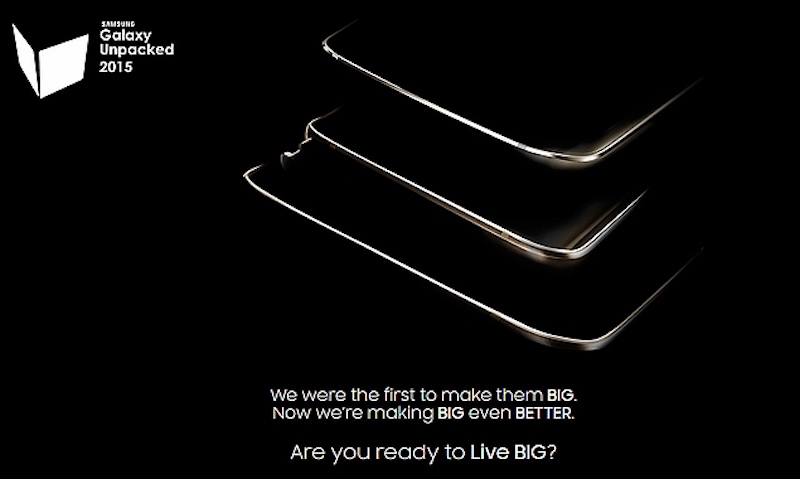 For the latest tech news and reviews, follow Gadgets 360 on Twitter, Facebook, and Google News. For the latest videos on gadgets and tech, subscribe to our YouTube channel.
Related Stories