Samsung appears to be all set to launch the Galaxy Note 4 in India on October 10.
The South Korean giant shared the worldwide roll-out schedule of the Samsung Galaxy Note 4 in a Facebook post, with a map of countries marked with their respective launch dates. The Galaxy Note 4's India launch date was marked as October 10.
The Facebook post was later pulled down, not before NDTV Gadgets obtained a screenshot. We are yet to hear any official word from Samsung India regarding the launch of the Galaxy Note 4 in the country.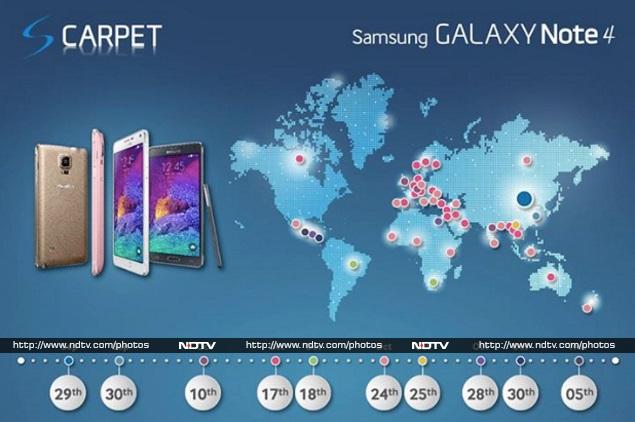 Samsung released its latest Galaxy Note series handset, the Galaxy Note 4, earlier than originally announced in China and South Korea in September - an attempt to beat the 'bigger' iPhone 6 and iPhone 6 Plus to market in these countries.
The Galaxy Note 4's roll-out thus far has not been ideal for Samsung, with some buyers in South Korea complaining of a manufacturing defect in the handset. Some users even posted images of the new phablet from Samsung showing the defect - a gap between the phone's screen and the metal casing.
However, Samsung was quick enough to respond and rejected the claims. It stressed that the gap was a natural part of design that "does not impact the functionality or quality" of the phone.
Initially announced at the sidelines of IFA, the Galaxy Note 4 comes with the new S Pen stylus with improved pressure sensitivity, as well as the new Smart Select feature, apart from the new calligraphy and signing pen writing options. It runs Android 4.4 KitKat, and features a 5.7-inch Quad-HD (1440x2560 pixel) Super AMOLED display with a pixel density of 515ppi. The processor will be either a 2.7GHz quad-core processor, or a 1.9GHz octa-core (1.9GHz quad-core + 1.3GHz quad-Core) processor, depending on the region - with both versions featuring 3GB of RAM.
The Samsung Galaxy Note 4 bears a 16-megapixel autofocus rear camera with Smart OIS, and a 3.7-megapixel front-facing camera with an f/1.9 lens. It comes with 32GB of built-in storage, and expandability via microSD card.
An earlier report claimed that the company might sell the Galaxy Note 4 in India via offline retailers, citing excessive pressure from brick-and-mortar retailers.
Samsung lately has been on a launching spree in India, the company unveiled the Galaxy Alpha smartphone priced at Rs. 39,990, while the Galaxy Grand Prime at Rs. 15,499 - both unveiled by end of September.