Research In Motion has sent out media invitations for a special event to be held in New York on January 30 where it will officially unveil BlackBerry 10 smartphones and brand-new operating system.
The event is one of multiple events that RIM is expected to hold across the world, as it prepares for perhaps the most significant launch in its history. BlackBerry smartphones, characterised by their QWERTY keyboard, enterprise email and BlackBerry Messenger (BBM), lost the smartphone race to full-touch devices like Apple's iPhone and phones powered by Google's Android operating system.
RIM seems to have finally woken up to the challenge and the first series of devices to be unveiled on January 30 are expected to be all-touch devices, with one or more QWERTY BlackBerry 10 devices expected later next year.
The
BlackBerry 10
operating system has been designed afresh from the ground-up, with an interface optimised for touch-screen devices. BlackBerry 10 comes with a new soft-keyboard that learns user habits and gets better at predicting input over time. Perhaps the most significant new feature is the BlackBerry Hub, which acts as the focal-point of the new operating system.
BlackBerry Hub is the one-stop place to access all your messages - from social networking to work and personal emails, from BBM to text-messaging and even voice calls. BlackBerry Hub can be invoked by an easy gesture, no matter where you are within the OS - simply swipe up from the bottom, and over to the right.
Other new features include Active Frames that greet you when you wake up the BlackBerry 10 phone. Active Frames include useful information about running apps, even when the app is minimised, not dissimilar to live widgets on other platforms.
A Vietnamese
website recently caught hold of
what it claims is one of the BlackBerry 10 RIM will unveil on January 30.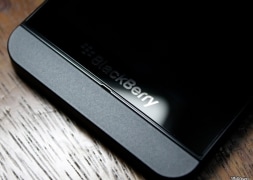 Is this the BlackBerry 10 L-Series smartphone?
Invitation Image courtesy: BGR
For the latest tech news and reviews, follow Gadgets 360 on Twitter, Facebook, and Google News. For the latest videos on gadgets and tech, subscribe to our YouTube channel.
Related Stories