Qualcomm, soon after announcing the low-end
Snapdragon 212 and Snapdragon 412 processors
, has now announced its next-generation graphics processing unit (GPU) architecture dubbed Adreno 5xx alongside a new
Qualcomm
Spectra image signal processing (ISP) unit.
The first two GPUs to be available under the new architecture are the Adreno 530 and Adreno 510. The new GPUs will be available within the forthcoming Snapdragon 820 and Snapdragon 620/618 processors. The Snapdragon 820-based devices featuring Adreno 530 are expected to be available in the first half of 2016.
The chipset maker also clarified that the high-end Snapdragon 820 chipset will debut with the new Qualcomm Spectra image signal processing (ISP) unit which is said to be designed to support superior DSLR-quality photography and enhanced computer vision. Qualcomm says the Spectra ISP unit also supports 14-bit sensors for a wider range of colours and more natural skin tones.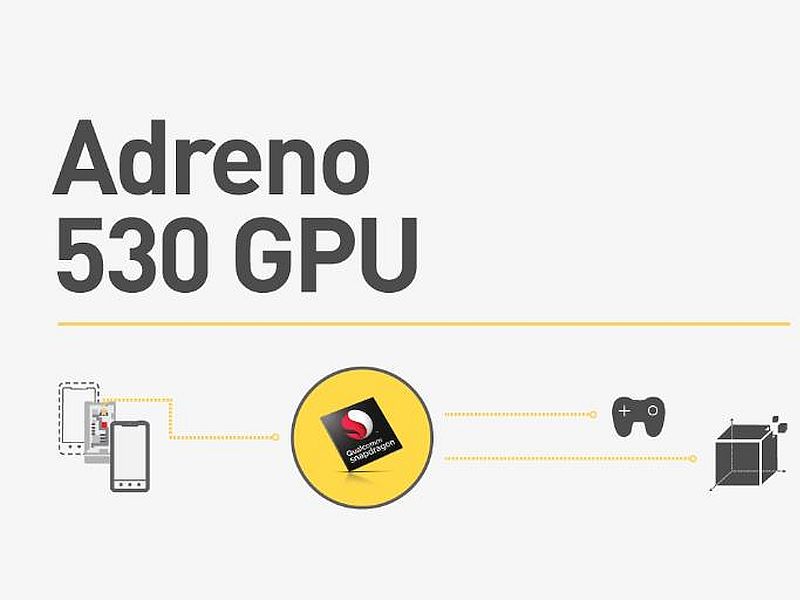 The company touts that the new Adreno 5xx GPU architecture delivers improved speed and efficiency over the older generation GPUs. The successors to the Qualcomm's Adreno 4xx family, the Adreno 5xx family comes with several improvements. The Adreno 530 will offer up to 40 percent reduced power consumption and 40 percent faster performance for both graphics and GPGPU compute when compared to previous generation, Adreno 430.
It will support OpenGL ES 3.1+AEP (Adreno Extension Pack), Renderscript, and the new OpenCL 2.0 and Vulkan standards. The new high-end GPU will support 64-bit virtual addressing and will also feature improved fine-grain power management, apart from new rendering, compositing, and compression techniques. It will support up to 4K HEVC videos at 60fps via HDMI 2.0 to Rec. 2020 ultra-high definition (UHD) displays and TVs. The company adds that the new Adreno 530 GPU will feature improved EcoPix and TruPalette support for longer battery life and superior pixel quality.
Commenting on the announcement, Tim Leland, vice president, product management, Qualcomm Technologies said, "We're significantly enhancing the visual processing capabilities of Snapdragon to support next-generation user experiences related to computational photography, computer vision, virtual reality and photo-realistic graphics on mobile devices, all while maximizing battery life. In addition, as emerging growth segments such as automotive demand more immersive visual experiences, Snapdragon 820 will enable the next generation of infotainment, computer vision and advanced processing for instrument clusters."
In other news, Qualcomm recently revealed the successor to the popular octa-core Snapdragon 615 processor, the Snapdragon 616. The Snapdragon 616 is an upgraded chipset and offers connectivity with X5 LTE support, full-HD (1080p) support including an HEVC (H.265) video codec alongside the Qualcomm Adreno 405 GPU. The 64-bit chipset comes with quad-core 1.7GHz ARM Cortex-A53 + quad-core 1.2GHz ARM Cortex-A53 processor. It supports up to 21-megapixel cameras and up to WQXGA (2560x1600 pixels) resolution displays.