Qualcomm has taken the wraps off its Snapdragon 801 SoC, an incremental update to the Snapdragon 800 which has powered most of the flagship smartphones and tablets released in the past year. The new SoC is faster than its predecessor and contains a few updated components, but is otherwise much the same.
Products based on the Snapdragon 801, including Sony's recently announced Xperia Z2 and Xperia Z2 tablet (and potentially several other devices rumoured to be launching at MWC 2014), will ship before the end of March.
The new Snapdragon 801 is pin-compatible and software-compatible with the 800, which means hardware manufacturers can simply replace one with the other in their designs. It's based on the same 32-bit Krait 400 cores and Adreno 330 graphics logic as the 800, but the maximum possible speeds have been raised for both. While the CPU cores can run at up to 2.45GHz, the graphics processor can run at 578MHz. Qualcomm highlights the fact that devices based on the Snapdragon 801 will be able to support higher-resolution cameras with larger sensors, and post-processing tasks will run faster.
The chip will also contain dedicated logic for dual-active SIM card configurations, aimed at improving device penetration in markets such as China and India. Other improvements include support for faster eMMC storage and a faster memory bus. ARM's more modern 64-bit instruction set is not yet supported.
Features carried over from the Snapdragon 800 include 4G LTE support, integraged 802.11ac Wi-Fi, and dedicated digital signal processing blocks.
On the 64-bit front, Qualcomm also shared details of its more mid-range Snapdragon 610 and 615 SoCs. The Snapdragon 610 and 615 will feature four and eight CPU cores respectively, and use the powerful Adreno 400 graphics processor. Both chips, along with the lower-specced Snapdragon 410 will support LTE data speeds. Qualcomm has not released information pertaining to when a flagship 800-series SoC will be available with 64-bit CPU cores.
The company recently announced that it was cancelling the planned introduction of the Snapdragon 802 SoC intended for smart TVs, citing a lack of demand for such a specialised processor.
For more annoucements from MWC 2014, visit our coverage page.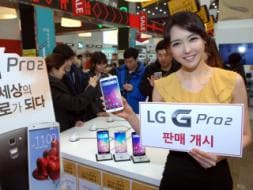 MWC 2014 in pictures