Panasonic India has launched two new entry-level feature phones for the Indian market, the Panasonic EZ180 and EZ240, which are priced at Rs. 1,350 and Rs. 1,790 respectively.
Speaking on the availability during the launch, Manish Sharma, managing director of Panasonic India, mentioned that these phones have been made available to consumers across retail outlets and chains in India from 2 February 2014.
Both the feature phones from Panasonic are basic 2G dual-SIM (GSM+GSM) handsets, with additional Hindi language support through keypad, and security features like mobile tracker, blacklist, security inbox and application privacy.
Panasonic EZ180 comes with a 1.8-inch colour LCD display, while the EZ240 comes with a 2.4-inch colour LCD display. Both feature phones support storage expansion up to 16GB via microSD card, and feature only 32MB of built-in internal storage.
Panasonic EZ180 has a 0.3-megapixel rear camera and EZ240 has a 1.3-megapixel rear camera.
Panasonic EZ180 measures 108.5x45x13.5mm and packs a 1000mAh battery, whereas EZ240 packs a 1200mAh battery with dimensions 117.5x51x11.9mm.
Additional features include recording, FM radio, Bluetooth, GPRS and 3.5mm audio jack support on the both the Panasonic phones.
Sharma at the launch of the Panasonic EZ180 and EZ240 said: "This launch is a testimony to the company's focus in reaching out to these markets which are increasingly price-sensitive perfectly matching to our consumers' needs for affordable solutions. The newly launched phones are designed to seamlessly prioritize and merge the vital mobile purposes that matter most to customers across diverse markets."
In May 2013, the company had made its foray into the Indian smartphone market with the launch of the Panasonic P51, at Rs. 26,900.
Panasonic P51 features a unibody design and comes with a 5-inch IPS display that sports a resolution of 720x1280 pixels. The dual-SIM phone runs Android 4.2 Jelly Bean and is powered by a 1.2GHz quad-core processor. It sports an 8-megapixel rear camera with auto-focus and a 1.3-megapixel front facing camera which is capable of recording 720p video.
The Panasonic P51 has 1GB of RAM and 4GB of built-in storage that can be expanded up to 32GB via microSD card. It has a 2500mAh battery and comes with a stylus and a magnetic flip cover.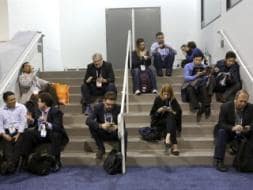 Mobiles launched in February 2014