OnePlus, soon after announcing it would be opening an R&D centre in Europe, on Monday unveiled the report card for its debut year - 2014. The annual report card gives details on the company's shipments, regions where the smartphones were sold, total team strength, and more.
The OnePlus report card comes in the form of an infographic on the OnePlus forum. According to the post, the company in 2014 sold 39 percent of its One smartphones in East Asia regions (including China, Taiwan, Hong Kong), followed by 32 percent, 22 percent and 7 percent in Europe (including Austria, Belgium, Denmark, Finland, France, Germany, Italy, the Netherlands, Portugal, Spain, Sweden, the UK), North America (including Canada and the USA) and India respectively.
On the revenue front, OnePlus smartphone generated more than $300 million (roughly Rs. 1,850 crores) until December 2014. It is worth mentioning that the handset started shipping only in June last year.
The firm's forum members are mostly from the US region (around 16-17 percent) followed closely by India (roughly 15 percent), Italy (roughly 7 percent), Germany (roughly 6 percent), England (roughly 5 percent) and others. The total number of forum members grew from 0 to around 450,000 in the span of eight months starting mid-March. Also, in one year (December 2013 - December 2014) , the total number of OnePlus forum posts rose from 24 to 8,656,060.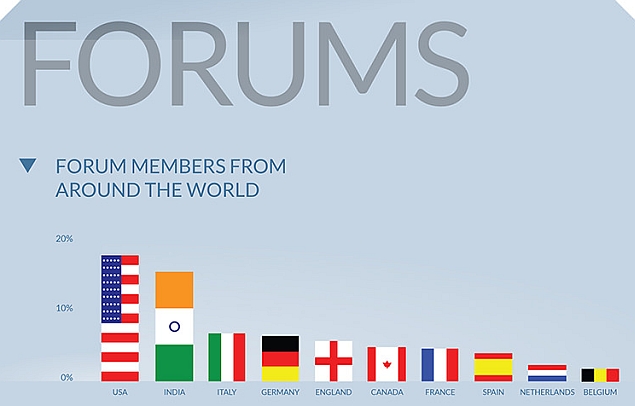 OnePlus added that it spent 10.8 million minutes answering tickets under its Customer Support. It further mentioned details about its team strength. The OnePlus team strength grew from mere six members in December 2013 to 88 in one year. The team's gender ratio is 47 percent male and 53 percent female, hailing from 13 different countries. The average age of the employees is 25.6 years.
Though it is too early to guess, the company responsible for making the 'Flagship Killer' One smartphone might show a better and more impressive report card for this year as it has a couple of smartphones lined-up.
OnePlus Co-Founder, Carl Pei, last week revealed plans about setting up an R&D centre in Europe in the second half of 2015. Interestingly, Pei in his post also tagged an article that reported Sony will cut around 1,000 additional jobs in its smartphone division. There is little doubt that Pei is tipping that the employees from the Japanese company are most welcome to join the OnePlus team.