Amazon India has teased the upcoming launch of the OnePlus One in the country.
In a teaser image posted to its website, the online retailer says the smartphone, popularly known as a 'flagship killer', is expected to be available in the coming days. The OnePlus One will be exclusive to Amazon India, but no other details have been provided beyond 'coming soon'.
The official teaser from Amazon India notes, "The Smartphone you have been waiting for, is coming soon," accompanied by an image of the One and hashtag '#TheOneThing'.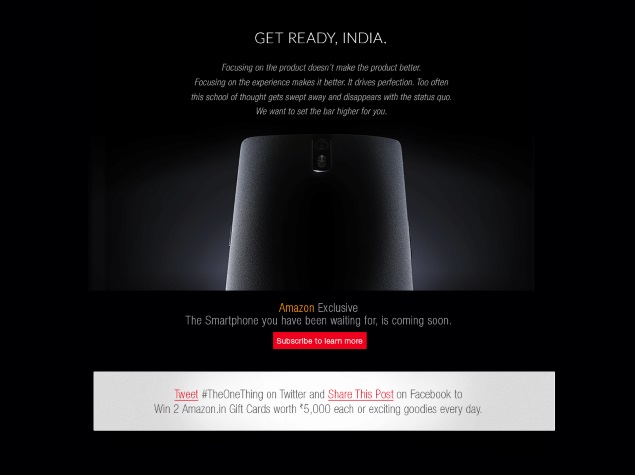 The company's newly appointed General Manager for OnePlus India, Vikas Agarwal, in a forum post on Saturday said, "Firstly, we are thrilled to confirm that the One will be available for our Indian users in December. We can't wait to bring your favourite phone to your hands. As all the details have now been perfected and last-mile hurdles have been cleared, the exact launch date will soon be announced in the coming days on our forums."
OnePlus had also previously announced that the One smartphone would be available in India through a system of invitations. The company has been stoking consumer interest through its own forums and social media channels rather than using traditional advertising.
"As announced earlier, the product will be exclusively available through our e-commerce partner for users who have a valid India-specific invite," further added Vikas.
A recent report citing Carl Pei, Director of OnePlus Global, claimed that the 64GB version of the OnePlus One would launch with a price tag of less than Rs. 25,000 in India.
The OnePlus One was launched in April this year and started shipping to users in June. The biggest feature being touted on the OnePlus One is that it runs CyanogenMod 11S, with the 'S' signifying a custom build for the One smartphone.
The OnePlus One smartphone features a 5.5-inch IPS LCD display with a resolution of 1080x1920, translating to a pixel density of 401ppi. The device boasts of Corning Gorilla Glass 3 protection. Other specifications include a quad-core Qualcomm Snapdragon 801 clocked at 2.5GHz with an Adreno 330 GPU, 3GB of RAM, a 13-megapixel rear camera with IMX214 sensor and f/2.0 aperture, a 5-megapixel front-facing camera, and a 3,100mAh non-removable battery.
Affiliate links may be automatically generated - see our ethics statement for details.