The '2014 Flagship Killer' smartphone,
OnePlus One
, has been noted to be affected by a touchscreen issue that is said to cause an unresponsive display.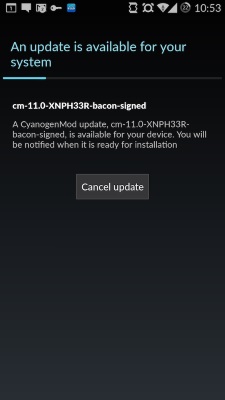 Now, the company is rolling out an OTA (over-the-air) update dubbed CM 11S 33R for the One smartphone, updating the build number to XNPH33R. OnePlus says the update provides critical security updates and fixes some known issues, while websites are reporting it also brings fixes for the above-outlined touchscreen issue.
The OnePlus forum post details the new update as, "CM 11S 33R OTA is starting to roll out as we speak, and we expect full deployment by the end of next week. This maintenance release provides critical security updates and fixes some known issues."
Android Police has listed the changelog of the latest OTA update for the One smartphone which brings a new radio image; touchscreen fixes; less power consumption while unused; some audio fixes, and unspecified security update.
However, Android Police further notes that the latest OTA update for the One does not fix the touchscreen problem completely.
One of the company's forum threads even details the touchscreen issues like grounding problem, which causes the display to act unresponsive when the One is placed on a surface. A user named Cristiano has also posted a video of this issue.
Another user named Nathan Hohsfield has posted a YouTube video showing that the handset still has touchscreen issues after the CM 11S 33R OTA update was installed
There is no word from the company whether another update to fix the grounding problem will be released for the OnePlus One smartphone.
It's worth mentioning that the company released a custom CyanogenMod firmware update for the One that also brought the Android 4.4.4 KitKat OS earlier this month.
OnePlus, after revealing its intentions for the Indian market last month, this week put up a job listing for the designation of "General Manager - India, Operations," seeking a local visionary to lead the team in India.