OnePlus, as a part of its Black Friday deal, is offering its 'flagship killer' smartphone and a bunch of accessories for the One handset, without any invite system.
The offer banner on the OnePlus.net website states that the handset will be available to order without invite till stocks last. An official forum post adds the offer "is exclusive to Black Friday, so act fast." NDTV Gadgets however was able to confirm the OnePlus One offer is valid for 72 hours, though of course, the 'till stocks last' caveat still exists.

Also, once ordered, the company says the Cyanogen OS-based OnePlus One smartphone will reach customers before December 25. While the 64GB Sandstone Black version ships in 5 business days, the 16GB Silk White variant ships in 10 business days.
Besides the One smartphone, OnePlus has also given discounts ranging between 10-20 percent on smartphone accessories including the recently announced JBLE1+ Earphones, OnePlus Silver Bullet Earphones, OnePlus Tempered Glass Screen Protector, OnePlus HD Screen Protector, OnePlus Screen Protector, OnePlus One Flip Cover, OnePlus One Clear Case, and OnePlus One Data Cable. You can visit the Black Friday specific landing page for more details.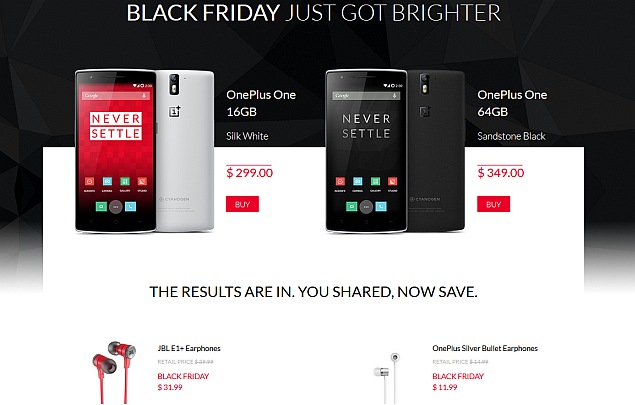 The OnePlus One and its accessories are currently available to order from markets in which they are shipping already (United States, Sweden, Denmark, Netherlands, United Kingdom, Spain, Germany, France, Italy, Finland, Belgium, Austria, Canada, Hong Kong, Taiwan, and Portugal).

It is worth noting that the shipping address field will only show countries based on the country-specific site the user logs in from. As can be seen, India is not on the list. Of course, in case your country is not on the list, you can always use a parcel forwarding service to get it shipped - though be warned, this can become pretty expensive unless you hunt down a cheap and reliable one.

(Also See: How to Get a OnePlus One India-Specific Invite)
OnePlus will be finally launching its One smartphone in India from Tuesday, December 2, exclusively on Amazon.in. The company has yet to announce a price, but had earlier confirmed the 64GB version would cost less than Rs. 25,000. Pricing details will be announced at the launch event the same day.
In-line with the company's global invite system, the OnePlus One smartphone will be available for purchase only for users with invites. Users in India will receive India-specific invites through OnePlus and Amazon.Read our guide on how to get an India-specific invite.