OnePlus is getting into the holiday mood and is for a limited period offering the 'flagship killer' One smartphone without any invite system.
The OnePlus website shows a banner stating that the handset will be available to order without invite till stocks last. The website promises that the orders will be delivered before December 25.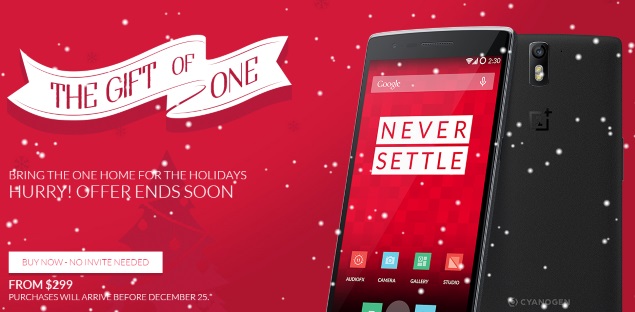 While the OnePlus One 64GB Sandstone Black version comes at $349 (Rs. 21,700 approximately), the 16GB Silk White variant is available at $299 (Rs. 18,600 approximately).
(Also see: Refurbished OnePlus One Smartphones Not Being Sold as New, Says Company)
The company in a similar fashion offered its One (Review | Pictures) smartphone and a bunch of accessories for the One handset without any invite system, as a part of its Black Friday deal. The company had promised that the handset would be available to order without invite till stocks last. NDTV Gadgets however was able to confirm the OnePlus One offer was valid for 72 hours, though of course, the 'till stocks last' caveat still existed.
(Also see: OnePlus' Carl Pei Talks About Cyanogen Snub; Says OnePlus Two Due Q3 2015)
Potential OnePlus One buyers in India received a huge blow earlier this week when Cyanogen clarified that the handset sold in the country won't receive OTA updates. The company said in a blog post titled 'OnePlus One Global Device Update', "As we had pledged to our users, OnePlus One global devices will receive our OTA firmware updates. If a user in India purchased an OnePlus One global device in channels outside of India, they will receive our OTA firmware updates. However, this excludes OnePlus One regional devices sold directly in India. We are committed to our exclusive partnership in India with Micromax, which will be launching its first Cyanogen OS device under their new YU brand."
OnePlus earlier this month launched its One smartphone in India, priced at Rs. 21,999 for the 64GB version (Sandstone Black), earlier this month. The smartphone has been available via invites exclusively on Amazon.in.
For the latest tech news and reviews, follow Gadgets 360 on Twitter, Facebook, and Google News. For the latest videos on gadgets and tech, subscribe to our YouTube channel.
Related Stories