The
OnePlus 2
aka '2016 flagship killer' (as the company calls it) smartphone has received an impressive response from consumers as over 850,000 people have already registered for the invite at the time of writing. The second flagship smartphone from OnePlus is all set to go on sale starting August 11 in select countries including India, China, Canada, the US, and some EU regions. The OnePlus 2 smartphone, as its predecessor, will be available only to consumers with invites.
(Also see: OnePlus 2 Invites System Is Live, Here's How You Can Reserve a Spot)
If you haven't received the invite yet, head to the company's Invites page and reserve a spot in the list by simply putting down email address and wait for the invite to come.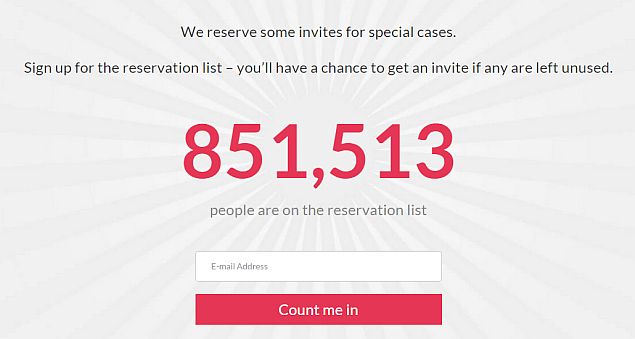 The company has also detailed other ways to receive the invite for the OnePlus 2. Interested consumers can get an invite from friends who have already purchased an OnePlus 2. People can also win invites by participating in the company's contests and promotions. OnePlus had, ahead of its second flagship launch, revealed that it would prioritise invites for "early and most fervent supporters" of the brand.
(Also see: OnePlus 2 First Impressions)
The company on its Invites page details that consumers after purchasing OnePlus 2 with an invite can expect the device to take up to 3 weeks before it is ready to ship. OnePlus also clarifies, "We will be keeping the invitation system for the foreseeable future. In order to get an OnePlus 2, you will need to be invited by another OnePlus 2 owner or by participating in our contests and promotions." Notably, invites are valid for only 24 hours and if the validity expires; the company allocates the corresponding OnePlus 2 to someone else waiting for an invite.
To recall, the 64GB OnePlus 2 has been priced in India at Rs. 24,999 and be available via Amazon India. The Chinese company has revealed intentions to sell one million units of the OnePlus One and OnePlus 2 by December in India. OnePlus India General Manager Vikas Agarwal recently stressed that the Indian market is an important one, and the company's third largest market outside China.
Additionally, OnePlus will soon put up its OnePlus 2 Data Cable up for sale at $5 (approximately Rs. 320) excluding shipping charges via the company's website. The new OnePlus USB Type-C cable for the OnePlus 2 smartphone can be expected to start shipping after August 11. The OnePlus 2 is one of the few smartphones that currently support USB Type-C connectivity and the cable is reversible at both ends.