Nvidia on Monday unveiled its fastest mobile SoC yet - the Tegra X1 - at the ongoing CES 2015 in Las Vegas. Additionally, the renowned graphics card manufacturer also showcased demos of two computing platforms, Drive CX and Drive PX, for cars. With these platforms, Nvidia hopes to revolutionise the dashboard and give an impetus to the concept of driverless cars so it can become a reality soon.
The new Nvidia Tegra X1 SoC has an 8-core 64-bit CPU and a 256-core Maxwell-based GPU and is claimed to be the first mobile chip to provide a teraflop of processing power. Nvidia notes that it is equivalent to the fastest supercomputer in the world in 2000. In addition to this, the Tegra X1 is also much more efficient than the Tegra K1.
To display the power and efficiency of the Tegra X1, Nvidia showed a demo of Unreal Engine's Elemental sequence. Nvidia's co-founder and CEO Jen-Hsun Huang said, "Last year, when next generation game consoles were released, they consumed 100 watts when running Unreal Engine's Elemental demo. Now we can do it on Tegra X1 at 10 watts." However, Engadget notes that it was unclear if the demo was in real-time or just a recording.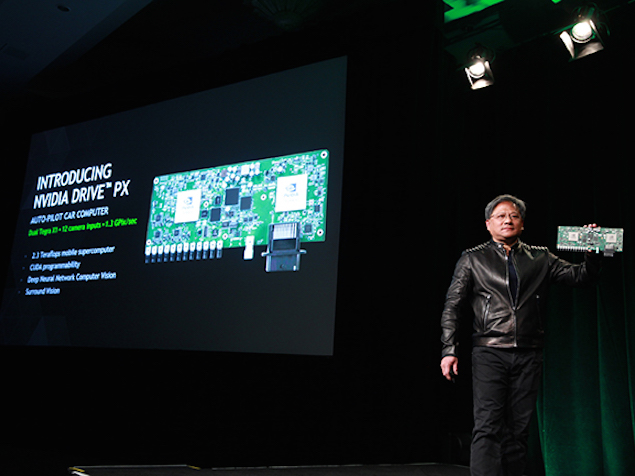 The first beneficiaries of this powerful mobile SoC are cars. The Nvidia Drive CX is based on a single Tegra X1 platform whereas the Drive PX is based on dual Tegra X1s. Nvidia Drive CX is a digital cockpit computer which will be the lifeline of a car's infotainment system. On similar lines, the Drive PX is an image processing platform will have the capability to work with inputs from up to 12 cameras in tandem for improved accuracy in the auto-pilot function inside a car. What this means essentially is that, Nvidia subscribes to Google's vision of driverless cars and how more of such cars might soon ply on roads across the world. Nvidia demoed a video of how a car with Drive PX computing architecture inside it can find a space in the parking garage traveling at around 8 kilometres per hour.
Nvidia also believes that cars in the future will have a number of displays and Nvidia's new Drive CX chip would be able to power as many as four full-HD screens simultaneously or even two 4K screens. Drive CX can also power features like speech recognition and image recognition inside a car.
The Santa Clara-based firm plans to make a reference design of the Drive CX platform available to car manufacturers soon. There is no word on a similar plan for the Drive PX yet. Also, it should be sometime before we see the Tegra X1 on a mainstream smartphone or tablet.

For the latest tech news and reviews, follow Gadgets 360 on Twitter, Facebook, and Google News. For the latest videos on gadgets and tech, subscribe to our YouTube channel.
Related Stories