Nokia announced its first smartphones based on the Android Open Source Project (AOSP), the
Nokia X family, at the sidelines of the just concluded MWC 2014
. The Nokia X family can run Android apps, and support Microsoft and Nokia services.
Nokia ditched many of Google's apps and services to make way for Microsoft's services such as Bing search, OneDrive (earlier called SkyDrive), Outlook.com and Skype among others. Since this meant the Nokia X phones would not be allowed to access the Google Play store, Nokia announced that Android apps for the Nokia X platform would be available from the Nokia Store, and via third-party app stores.
However, within a week, an XDA Developer forum member named Kasha Malaga claims to have managed to root the Nokia X to run Google's Android OS and other Google services. Malaga claimed the Nokia X phone was rooted in in five simple ways. Malaga has also posted a 24-second video that purportedly shows Nokia X running Google's Android OS and also shows the default Nokia custom skin replaced by the Google Now Launcher.
The video further shows Nokia X running Google's apps and services like Gmail, Play Store, Hangouts, Chrome, Google Search, Maps along with Microsoft and Nokia services like Nokia MixRadio and Nokia Music Player among others.
As of now, there is no word from the Finnish giant whether the Nokia X will be further locked down before hitting the market shelves.
The highlight of the Nokia X device, of course, is the highly customised version of Android, with its Metro-inspired UI and access to Nokia's own store. While there's no access to the Google Play store, users can side-load Android apps from any third-party source. Nokia has used AOSP corresponding to Android 4.1 Jelly Bean as the baseline for its operating system.
In February, right after introducing its Nokia X family at MWC 2014, the Finnish firm quickly started rolling out the Nokia X Services SDK to developers, as it had promised at the event. As the Nokia X Services SDK rolled out, the official SDK page mentioned that around 75 percent of Android applications will be able to run without any modifications.
An earlier report claimed that more Nokia X Android smartphones are on the way despite the Microsoft deal. The report revealed that the company believed that the Android-based X platform has been one approach to compete in the affordable smartphone market. The Finnish giant not only plans to release more Nokia X smartphones, it is also aiming for lower price points.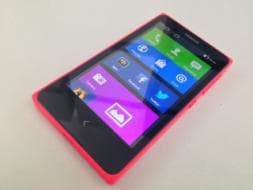 Nokia X Android phone in pictures