Nokia seems to be progressing with the idea of foldable displays, as it demoed two such OLED displays last week in an exhibition at San Diego.
Nokia Corp, along with Semiconductor Energy Laboratory or SEL, gave a glimpse of what the firm holds for future as it displayed two 5.9-inch foldable OLED screens during the Society of Display Information or SID's exhibition.
The Nikkei Technology report notes that while one of the two screens is a two-fold display, the other one is a three-fold display. Both flexible screens come with 720p HD resolution and 249ppi pixel density.
It is worth noting that Nokia and SEL used the "WTC" structure to make these foldable displays. The WTC (white tandem+top emission+colour filter) structure combines white light omitting OLEDs and colour filter. The display is said to be created by fusing two different sets of layers. The first set includes the release layer, sealing layer and colour filter layer on a glass substrate, while the other set includes a release layer, sealing later, TFT layer and an OLED layer on another glass substrate.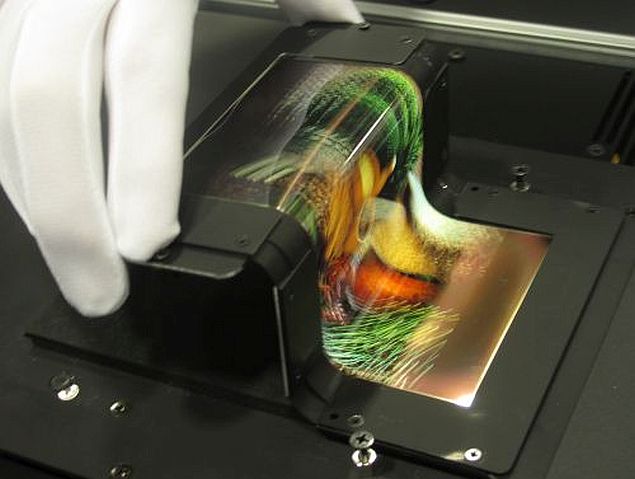 Then, the colour filter layer and the OLED layer are attached and the glass substrates are replaced by flexible substrates. This brings the colour filter, OLED and TFT layer fixed together between the sealing layer and the flexible substrate. It has been further reported that the book-type two-fold and the three-fold displays can bend up to 2mm and 4mm curvature radii respectively. It has been added that these displays can be bent more than 100,000 times.
We first saw such flexible OLED displays, dubbed as Youm displays, at the CES 2013 event by Samsung. The firm is yet to make such display screens available in its devices. Samsung however came out with a curved display handset, Galaxy Round as a Galaxy Note 3 variant. Challenging Samsung, LG last year unveiled its LG G Flex handset, which sports a curved, flexible display.
For the latest tech news and reviews, follow Gadgets 360 on Twitter, Facebook, and Google News. For the latest videos on gadgets and tech, subscribe to our YouTube channel.
Related Stories