The Nokia Lumia 920 is yet to make its debut on Indian shores. But while we're still waiting, here's something that might be interesting. Reports from
The Verge
suggest that the Lumia 920's successor will reportedly feature an aluminium exterior. Furthermore, the site has learned that the Finnish handset manufacturer is also working on two new Lumia devices that will be a part of the new Lumia lineup to be revealed later this year.
Citing "sources familiar with Nokia's plans", the site states that Nokia is planning to switch over from the polycarbonate plastic casing to an aluminium body, thereby making the phone much thinner and lighter. If this happens, then it could compete with the likes of Apple's iPhone.
The report states that we'll get to see the look on a new device codenamed Catwalk, that is a likely successor to the Lumia 920. It is expected to have hardware specifications similar to the company's current flagship device.
The device sporting the aluminium framework could be revealed not earlier than the Nokia World event that takes place around September. Since the Lumia 920 is yet to show up in many regions including India, it would be logical to reveal the successor later in the year.
Nokia had first showcased its
Lumia 920
alongside the
Lumia 820
at an event in September last year.
The Lumia 920 comes with 4.5-inch PureMotion HD+ display, wireless charging support and 2,000 mAh battery. Nokia Lumia 820 on the other hand is a mid-range Windows Phone 8 smartphone. It has a 1.5GHz Qualcomm S4 dual-core processor, 4.3-inch Clearblack display, 8GB of internal storage and a 8-megapixel rear camera.
Nokia has been offering
Lumia 920 in US for $450
without any contract, which is $100 less than Samsung's flagship device, the
Galaxy S III
and $200 less than Apple's
iPhone 5
.
It was earlier rumoured that Nokia will be launching its Lumia 920 in India sometime in
November 2012
, but later pushed back the same to December. Of course it's January already and we're still waiting for the launch. As of now, there is no confirmation about the India pricing of this smartphone.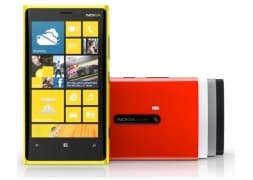 Lumia 920 and 820 in pics