Nokia has finally launched the much-awaited Lumia 920 in India and revealed the price as Rs. 38,199.
Nokia officially
announced the Lumia 920
way back in September last year. In case you've been living under a rock, here's a quick refresher of the specs.
Nokia Lumia 920 comes with a 4.5-inch PureMotion HD+ display with 1280x768 resolution. It is powered by a dual-core 1.5GHz Snapdragon S4 processor alongside 1GB RAM and 32GB of internal storage.
One of the highlights of the Lumia 920 is its 8.7-megapixel camera with PureView technology, made famous by the 41-megapixel Nokia 808. The camera also boasts of enhanced Optical Image Stabilisation that claims to stabilise recorded videos, even if the phone is subjected to a lot of jerks, like in a moving vehicle.
The Lumia 920 also boasts of a 1.2-megapixel front camera. Another highlight of the Nokia Lumia 920 is support for wireless charging. Connectivity options include NFC, aside from standard Wi-Fi, Bluetooth and Micro-USB. The Nokia Lumia 920 comes with a 2,000mAh battery and weighs a massive 185 grams.
The Nokia Lumia 920 runs Microsoft's latest Windows Phone 8 operating system. Windows Phone 8 brings a
host of improvements
to Windows Phone like Internet Explorer 10, Nokia Maps and user resizable tiles.
Nokia Lumia 920 has released to generally positive reviews across the globe and the phone has been in short supply in the few markets where it has started shipping. That is likely down to supply constraints, as much as it is an indicator of the phone's popularity.
Nokia Lumia 920 will be available in yellow, red, white and black colours starting Friday.
Nokia also launched the
Lumia 820
and
Lumia 620
in the country.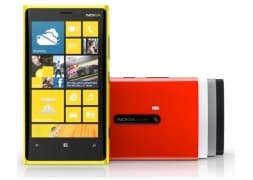 Lumia 920 and 820 in pics
Nokia Lumia 920 specifications
4.5-inch (1280x768) PureMotion HD+ display
Dual-core 1.5GHz Snapdragon S4 processor
1GB RAM
32GB internal storage
8.7-megapixel PureView rear camera
1.2-megapixel front camera
Wireless charging
Wi-Fi, Bluetooth, Micro-USB
Windows Phone 8
2,000mAh battery
130.3mm x 70.8mm x 10.7mm
185g