Nokia seems to trying hard to make sure that its latest flagship smartphone Lumia 920 is able to make a mark. According to
Engadget
, Nokia will be selling Lumia 920 in US for $450 without any contract. This price is $100 less than Samsung's flagship device Samsung Galaxy S III and $200 less than Apple's iPhone 5.
AT&T, which is the second largest telecom operator in US has also announced that it will be sell the Nokia Lumia 820 for $49.99 and the Lumia 920 phone for $99.99 to customers who sign a two-year wireless contract. While, the other Windows Phone 8 smartphone - HTC 8X is selling for $199.99 with a two year contract. (For more details read: Nokia Lumia 920 gets price advantage over HTC 8X in US Windows Phone 8 battle)
It's no secret that Nokia is banking on its Window Phone 8 strategy to make a comeback in the smartphone segment and the company is leaving no stones unturned to make sure that Nokia Lumia 920 and Lumia 820 are a success.
Nokia Lumia 920 comes with 4.5-inch PureMotion HD+ display, Wireless charging support and 2000 mAh battery. Nokia Lumia 820 on the other hand is a mid-range Windows Phone 8 smartphone. It has a 1.5GHz Qualcomm S4 dual-core processor, 4.3-inch Clearblack display, 8GB of internal storage and an 8-megapixel rear camera.
Nokia has already announced that its flagship Nokia Lumia 920 will be available in India starting November but has not shared the pricing of the same. After seeing the aggressive pricing strategy being adopted by the Finnish handset maker in US, one can hope that Nokia may try to adopt the same tactic in India too.
While it's always tricky translating prices from one market to the other, the $450 price tag also offers hope for those waiting for the Lumia 920 in other markets like India. Adding duties and other charges to $450 (approximately Rs. 24,750), the phone may be priced between Rs. 30,000 and Rs. 35,000, which would make the Nokia Lumia 920 an attractive buy at the price.
Nokia had recently launched the "cheapest Lumia device in the world", Nokia Lumia 510, which is now available Rs. 9,999 online. The Nokia Lumia 510 sports a 4-inch WVGA (800X480) display with a 5-megapixel rear camera and runs on Windows Phone 7.5. The phone is powered by a 800MHz Qualcomm processor and ships with 256MB RAM and 4GB internal storage.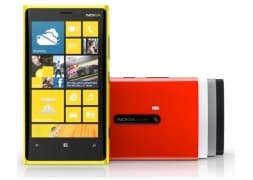 Lumia 920 and 820 in pics