Seems like Nokia is planning to extend its Here apps and services to other rival smartphone and tablet platforms - Android and iOS (once again).
Notably, back in November 2012, Nokia had released its Here Maps app for the iPhone and iPad. In December 2013 however, the company pulled the app from the App Store, saying that then newly released iOS 7 had harmed the 'user experience' of the app.
All this leaves us to wonder, that if reports about Nokia planning to bring its Here apps and services to the iOS platform are true, what has changed for Nokia? iOS 7 certainly hasn't changed yet.
As per two job postings by Nokia on LinkedIn, a professional social networking website, the firm plans to hire software engineers and developers for the Here Crowd Mapping group. While the first post is open for the Berlin office, the second post is additionally for Schwalbach and Frankfurt.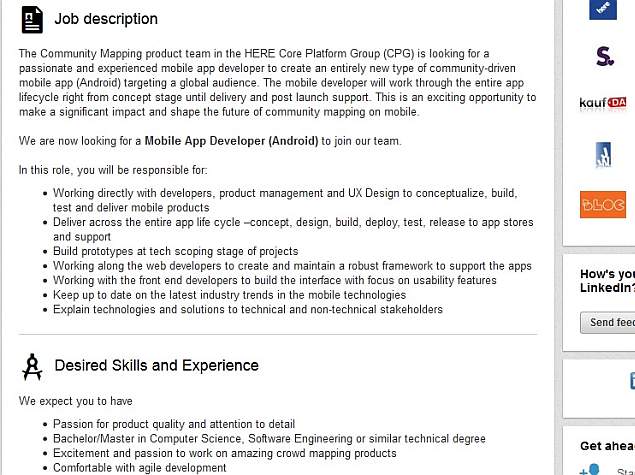 The first job post mentions the requirements of Android and iOS app developers with considerable experience with Android and iOS SDKs, and who have shipped "one or more Android / iOS apps, currently on Google Play / Apple Store." The second post focuses more on hiring an Android mobile app developer who is able to work on UX Design, concepts and builds for applications.
To recall, Here division of Nokia stays in Finland and does not come under the recent acquisition by Microsoft that finally came to an end last month.
Besides working on its Here apps for Android and iOS, the firm on Monday announced the launch of a $100 million (Rs. 600 crores approximately) Connected Car fund to be managed by Nokia Growth Partners (NGP). The fund will identify and invest in companies whose innovations will be important for a world of connected and intelligent vehicles, the company said.
The NGP fund will work closely with Nokia's Here maps and navigation division and, will seek to make investments that also support the growth of the ecosystem around Here's mapping and location products and services, the company added.
"We are excited to deepen our collaboration with Here through the Connected Car fund to invest in companies that are driving the future of the auto ecosystem, local services and personal mobility," stated Paul Asel, Partner at Nokia Growth Partners